18.3.2015-
Today,
Alexis
and
Malte
Mo
was born
ten
puppies
, three
boys
and
seven girls
.
Birth weight
from
508 grams
to
582 grams
.
Our puppies

-

If you are interested in any information or booking directly puppies , send us an e-mail- juza.jan@centrum.cz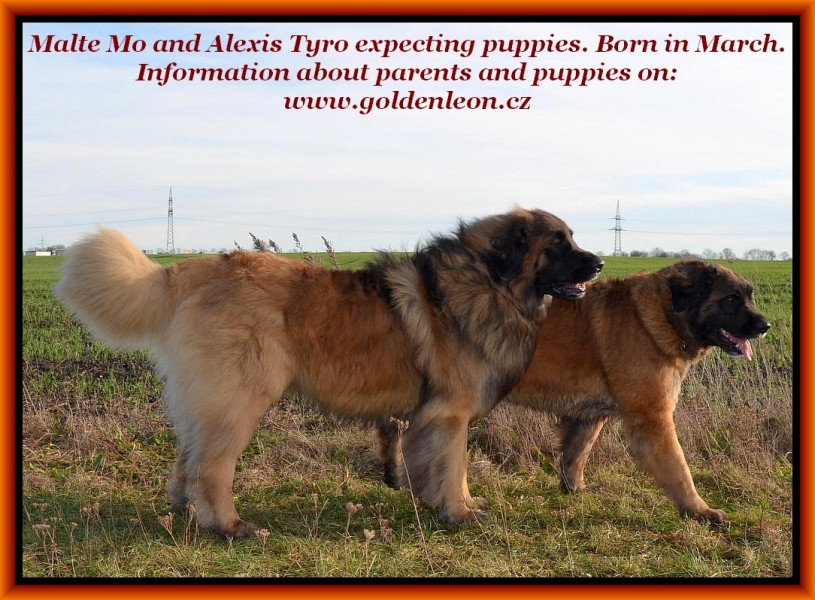 February 15, 2015 - Today we were with Alexis on sonographic examination, which confirmed their pregnancy. We have very happy and now we are starting preparations for its comfort and puppy playing.
13 and 14 January 2015 Alexis visited the dog Malte Mo and after a short familiarization mated our Lexi. Perhaps we can look forward to puppies.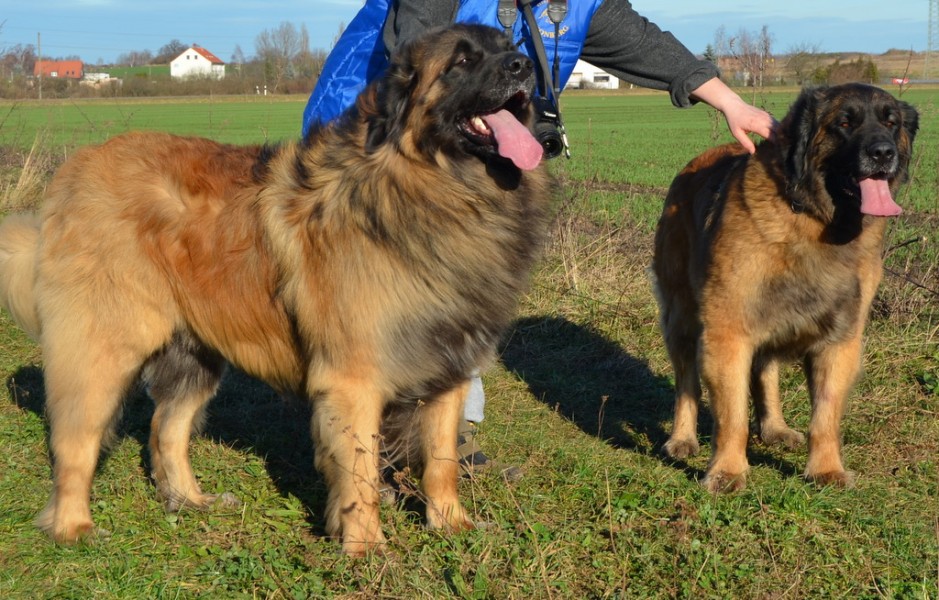 Malte Mo Löwe vom Bernburgerland Grandchampion Alexis Tyro Goldenleon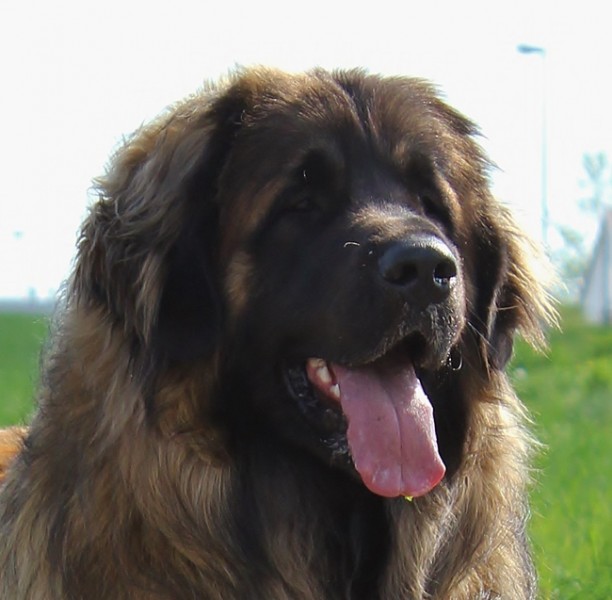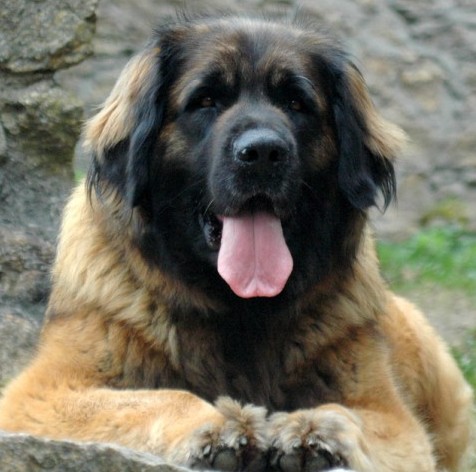 DKK A/A LPN1 N/N LPN2 N/N DKK1/1 LPN1 N/N LPN2 N/N
Born 26.9.2012, Malteho web: http://www.vom-bernburgerland.de
More photos Malte Mo - https://plus.google.com/photos/
| | | | | | | | | | |
| --- | --- | --- | --- | --- | --- | --- | --- | --- | --- |
| 29.03.2014 | 1.Nat.Rassehunde-Ausst.Berlin-Brandenburg 2014 | Zwischen-Klasse | V 1 | CAC | CAC | | X | VDH-Sieger Berlin 2014 | Hr. Knape |
| 30.03.2014 | 45.Int.Rassehunde-Ausst.Berlin-Brandenburg 2014 | Zwischen-Klasse | V1 | CAC | CAC | | | | Fr. Natterer |
| 12.04.2014 | 5.Int.Rassehunde-Ausst.Chemnitz 2014 | Zwischen-Klasse | V1 | CAC | CAC | | | | Hr. Mayer |
| 23.08.2014 | German Winner Show 2014 Leipzig | Zwischen-Klasse | V 1 | CAC | CAC | Res. | | | Hr. Mayer |
| 24.08.2014 | CACIB Leipzig 2014 | Zwischen-Klasse | V 1 | CAC | CAC | | | | Hr. Ogorzelski |
Grandšampion Alexis :
| | | | | | |
| --- | --- | --- | --- | --- | --- |
| Datum | Výstava | Třída | Hodnocení | Rozhodčí | |
| 4.1.2015 | ČMKU | | Český GRANDŠAMPION | | |
| 4.1.2015 | NVP Brno | Vítězů | V1 CAC | Otakar Vondrouš(CZ( | |
| 2.11.2014 | MVP Praha | šampionů | V2 Res. CAC | (B) | |
| 30.6.2013 | Intercanis Brno | šampionů | Výborná | M. Václavík (CZ) | |
| 26.5.2013 | Nord Bohemia | Litoměřice | Šampionů | V1 CAC, CAC ČMKU, CACIB | Libuše Ubrová (CZ) |
| 12.5.2013 | Spec MSKCHL | Zubří | Vítězů | Výborná 3 | Natterer Yvonne (D) |
| 20.4.2013 | Klubová KCHL | Ml.Boleslav | Vítězů | V1 CAC | Petr Řehánek (CZ) |
| 4.4.2013 | ČMKU | | | Český ŠAMPION | |
| 31.3.2013 | Mezinárodní | Č. Budějovice | otevřená | V1 CAC, CAC ČMKU, CACIB, BOB | Vlado Piskay (SK) |
| 1.4.2012 | Mezinárodní | Č. Budějovice | otevřená | V1 CAC, CAC ČMKU, CACIB | MVDr.Gabriela Ridarčiková (SK) |
| 5.2.2012 | Mezinárodní VP | Brno | otevřená | V2 Res.CAC | Olga Dosedělová(CZ) |
| 8.1.2012 | Hanácká Národní | Brno | otevřená | V1 CAC | M. Václavík (CZ) |
| 6.11.2011 | Mezinárodní VP | Praha | mezitřída | Výborná 3 | M. Václavík (CZ) |
| 9.10.2011 | Mezinárodní VP | Č. Budějovice | mezitřída | Výborná | Ing. Leoš Jančík |
| 22.5.2011 | Mezinárodní VP | Litoměřice | mezitřída | V1 CAC Res.CACIB | Ladislav Kukla (CZ) |
| 24.4.2011 | Mezinárodní VP | Č. Budějovice | mezitřída | Výborná 3 | Ladislav Kukla (CZ) |
| 6.2.2011 | MVP | Brno | mladých | Výborná | J. Matyáš (SK) |
| 5.2.2011 | MVP | Brno | mladých | VD | Karel Hořák (CZ) |
| 26.9.2010 | NVP | Brno | mladých | Výborná 2 | |
| 23.5.2010 | MVP | Litoměřice | dorost | Velmi nadějná 1 | L. Kukla (CZ) |
| 18.4.2010 | Klubová výstava | Mladá Boleslav | štěňat | Velmi nadějná 2 | Anna Šimáčková(CZ) |