2022
Chester Atuin Goldenleon
HD- A, LPN 1.2. N/N LEMP N/N DNA
kontakt: Magdalena Klipcová - e-mail- mamamagi@seznam.cz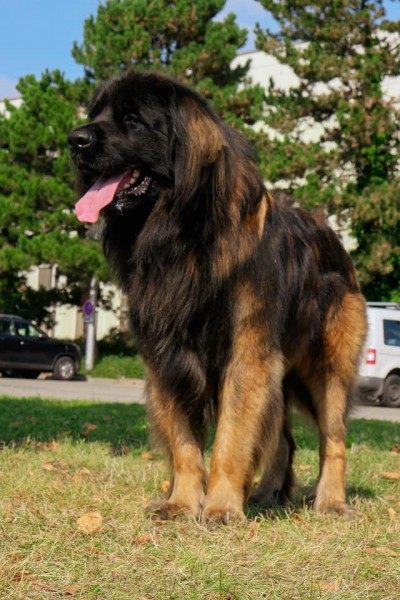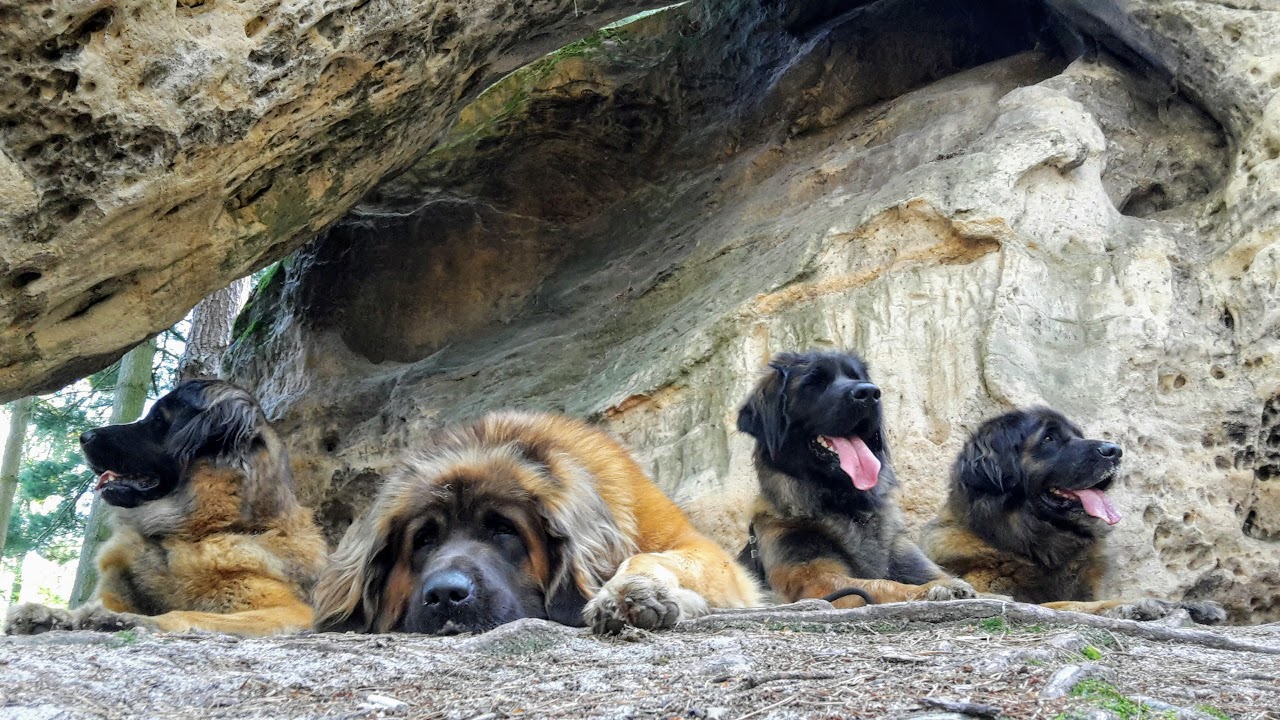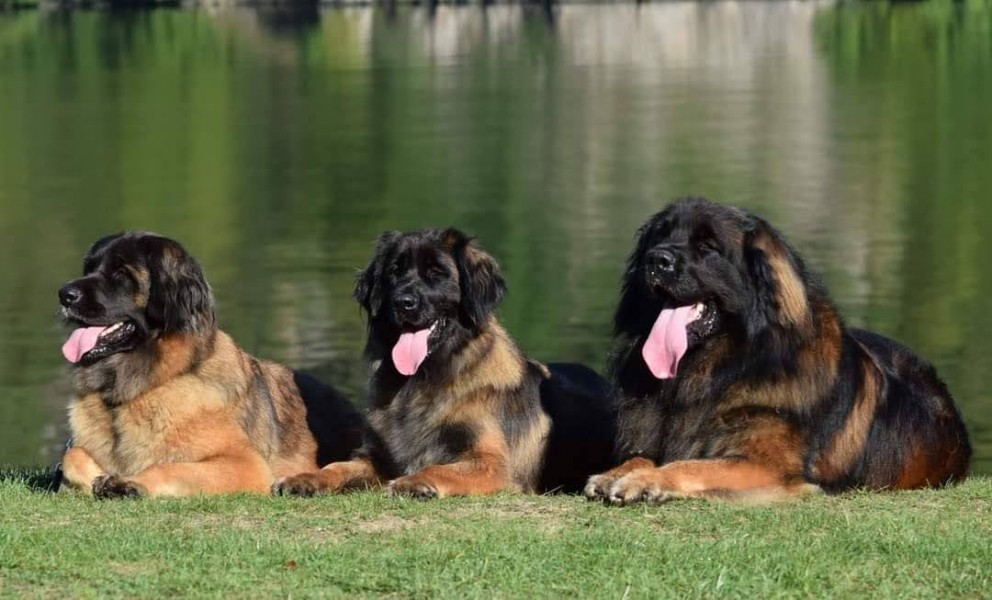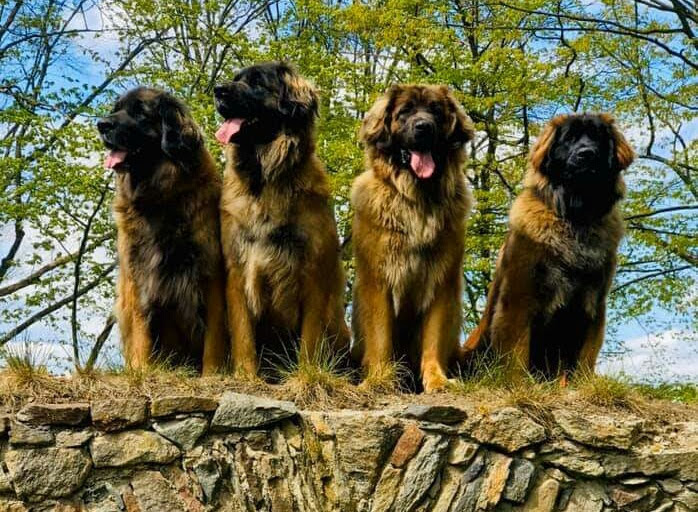 2019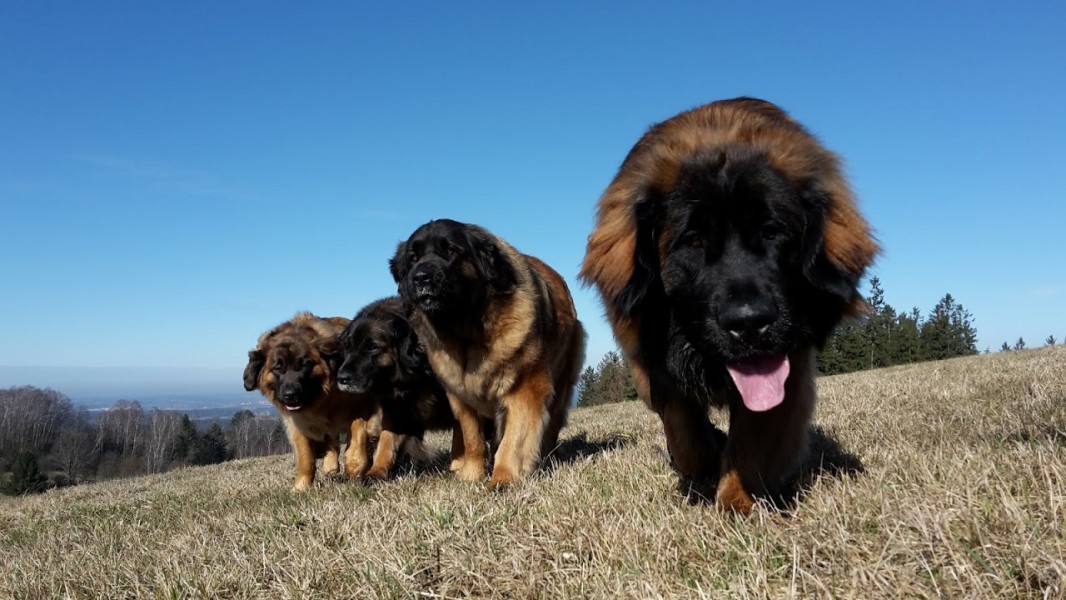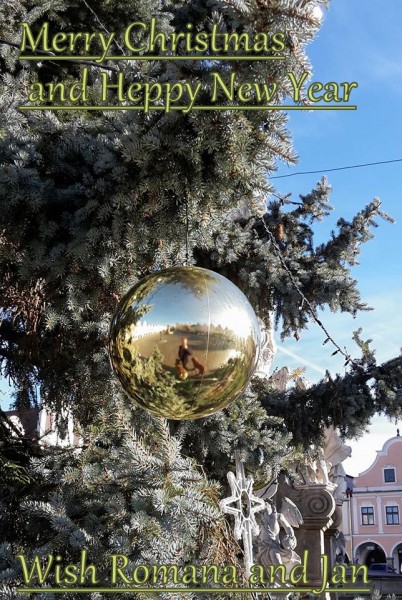 8.6. 2019 Folly Rose and Atuin have puppies,
five boys and one girl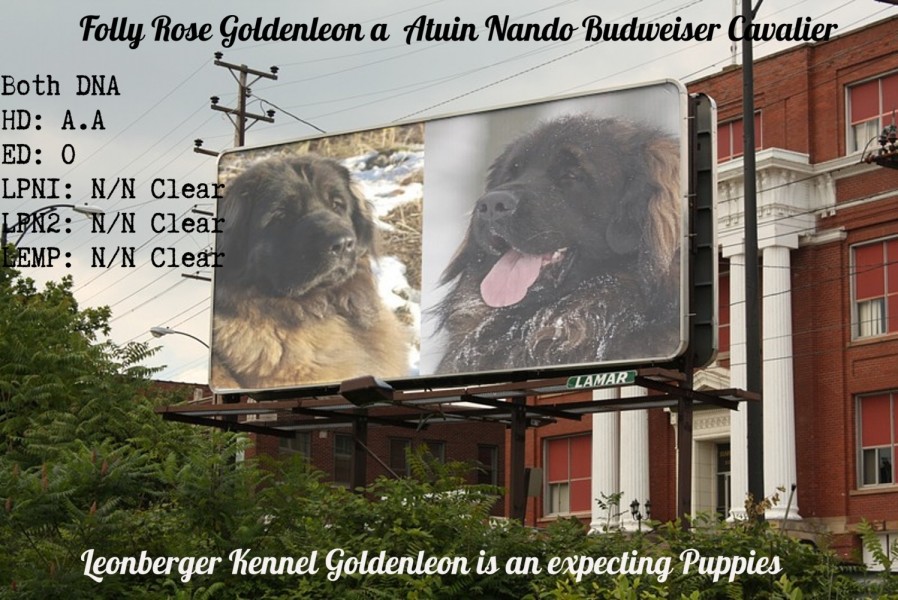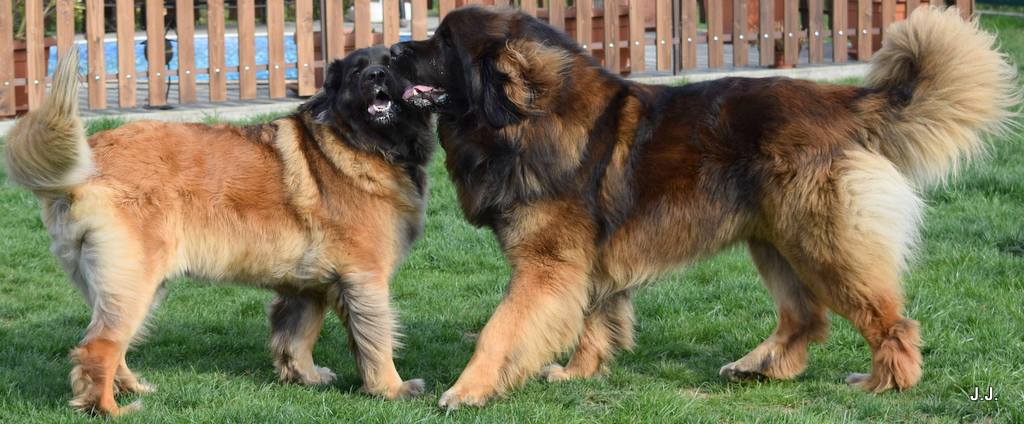 New member of our family Bell Bee Lions Sensation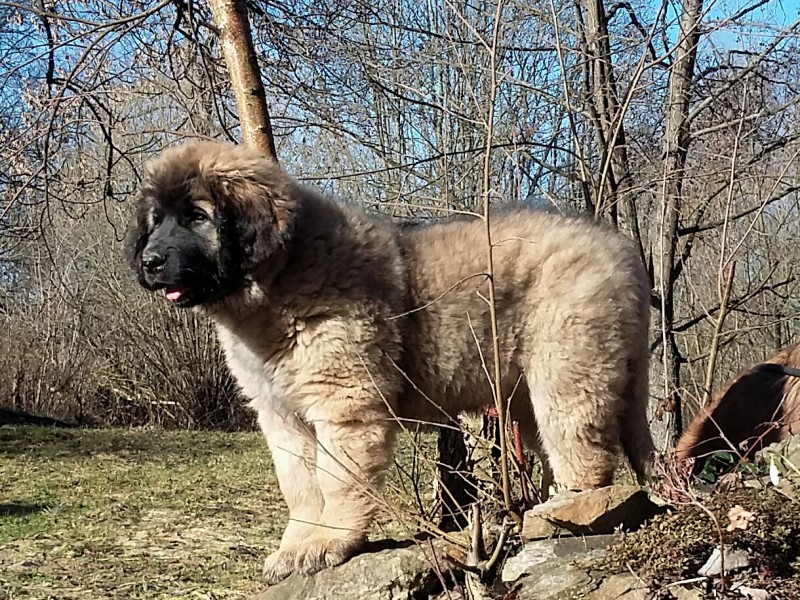 Mother: Roya Dreena vom Dreiburgenland
HD:A/A, LPN 1,2 N/N, LEMP N/N, height 74cm, actual weight 65kg,
Father: Malte Mo Löwe vom Bernburgerland
HD: A/A, LPN 1,2 N/N, LEMP N/N, height 79cm and weight 80kg,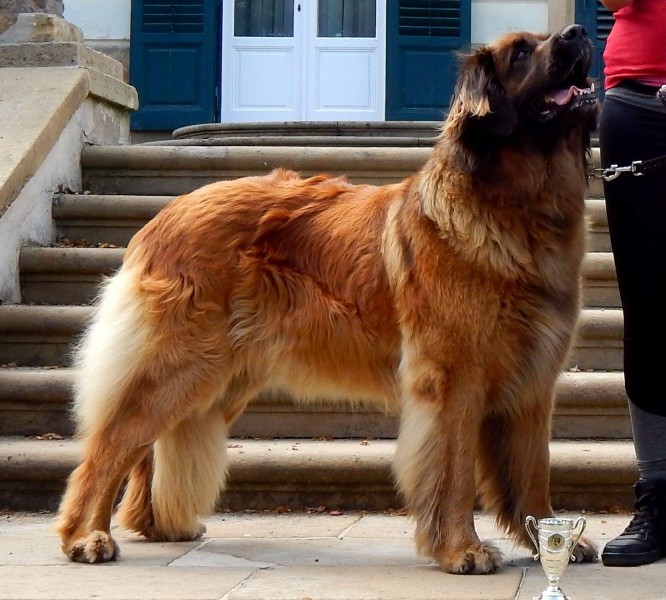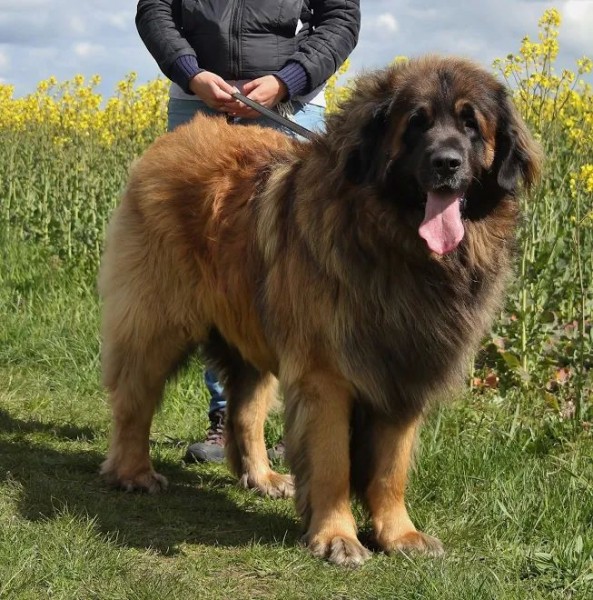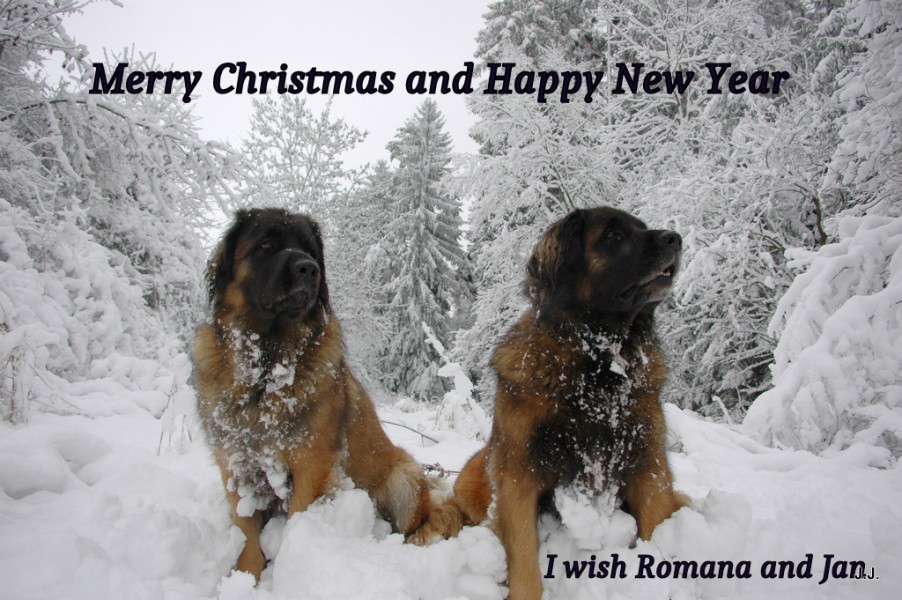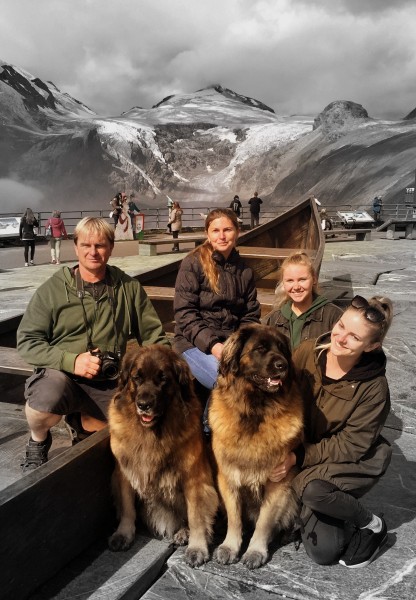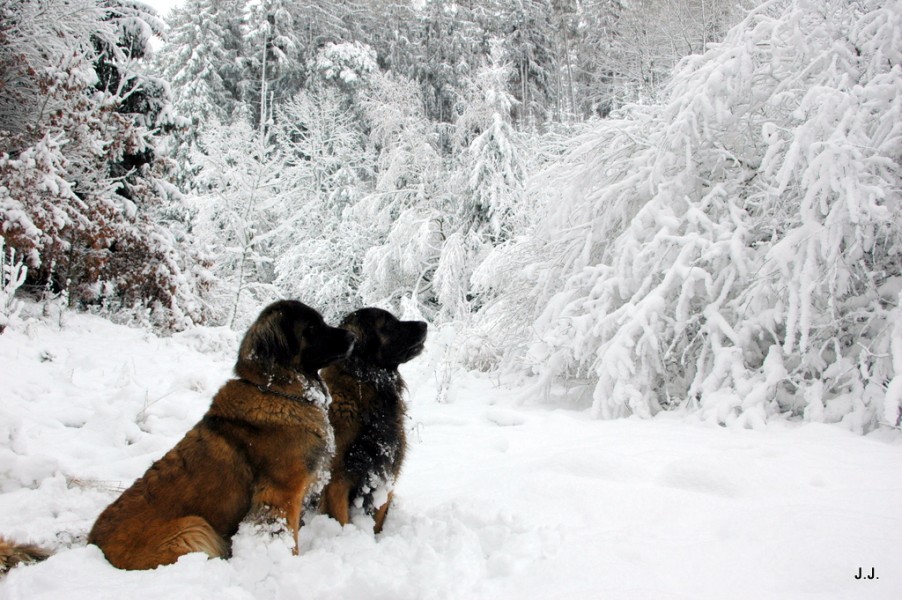 Club show of leonbergers KCHL CZ 26.5.2018 Nová Živohošť
Grizzly Goldenleon - open class V2 Res. CAC
Coudy Goldenleon - Honor Class Excellent 1
Celine Claudette Goldenleon - Honor Class - Excellent 1
Galina Gala Goldenleon - open class
Folly Rose Goldenleon- Excellent 1 CAC, Club winner female, BOS
Best breeders group 2018
Referees: G. Perosino Italy, M. Václavík ČR
Thank all friends for a beautiful show.
I thank the club for a beautiful show.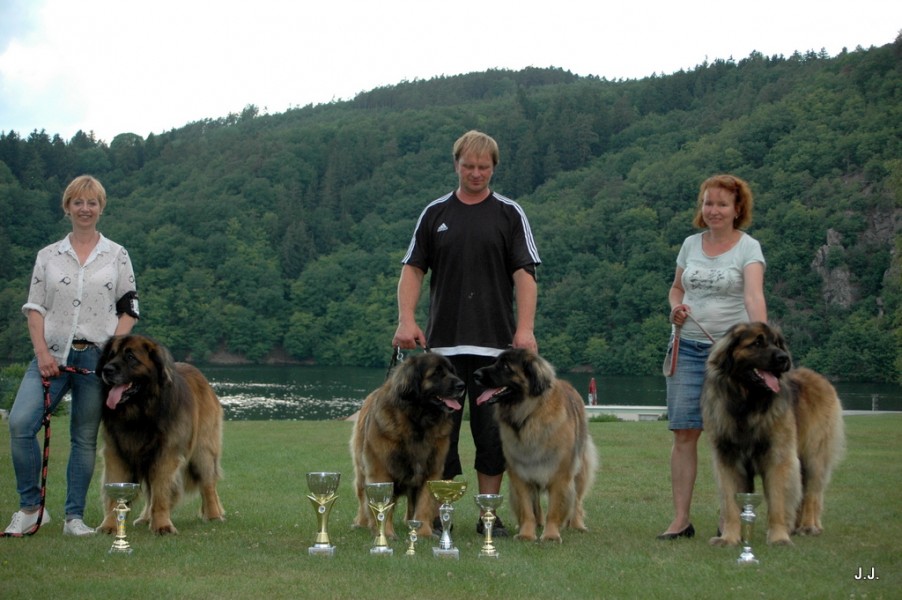 Coudy, Claudette, Folly, Grizzly Goldenleon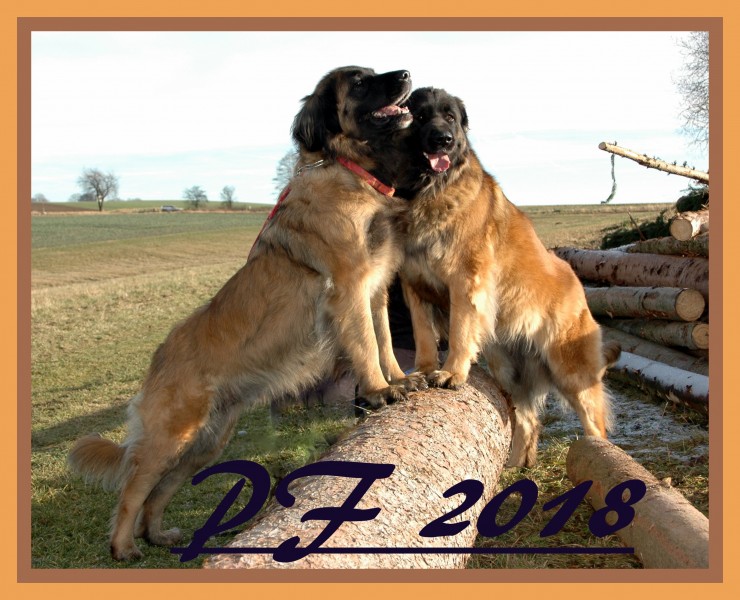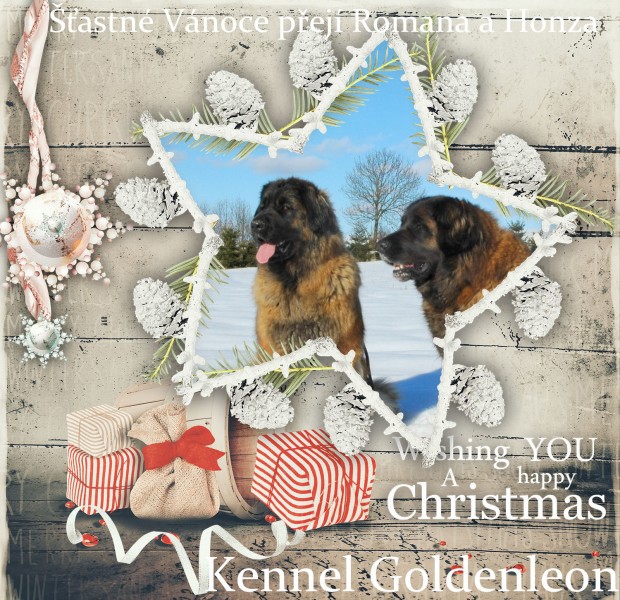 23.9.2017. The three brothers and their photos can be found HERE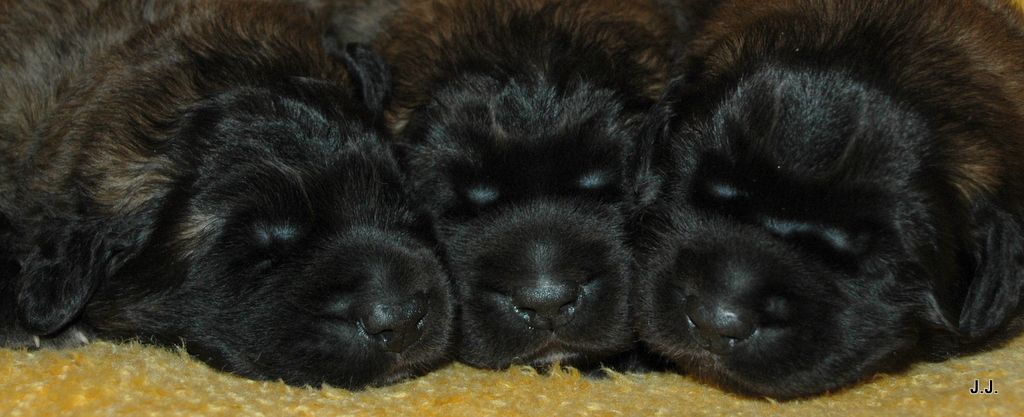 -We are fourteen days - Weighing tables - HERE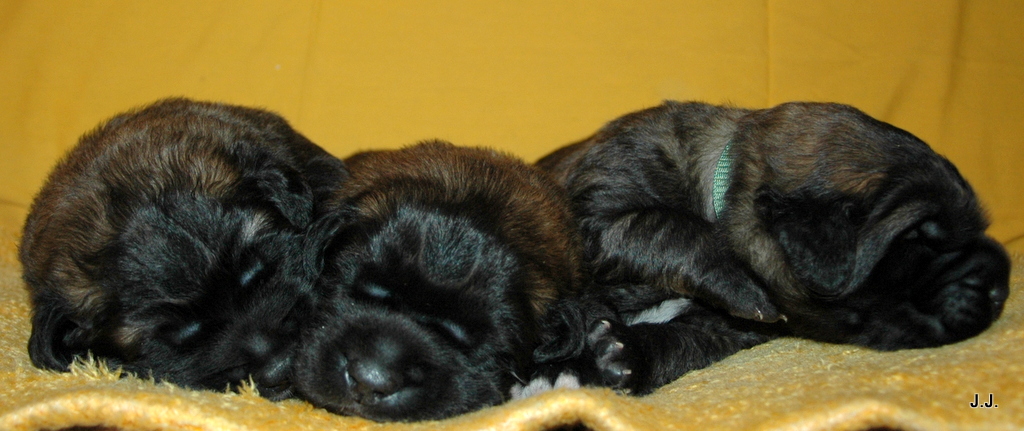 5.8.2017 - Claudette is waiting for puppies with this impressive dog - 81cm, confirmed yesterday by sonography

.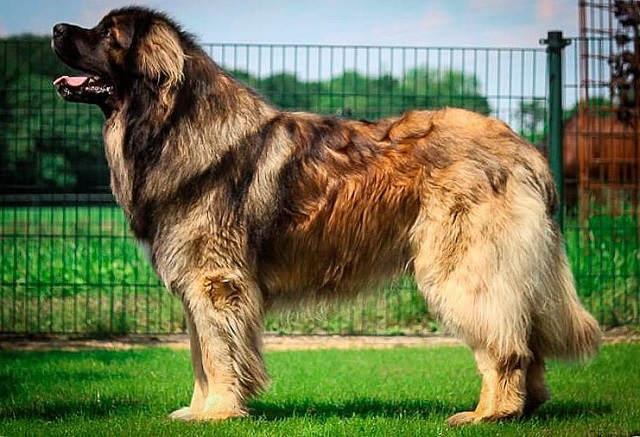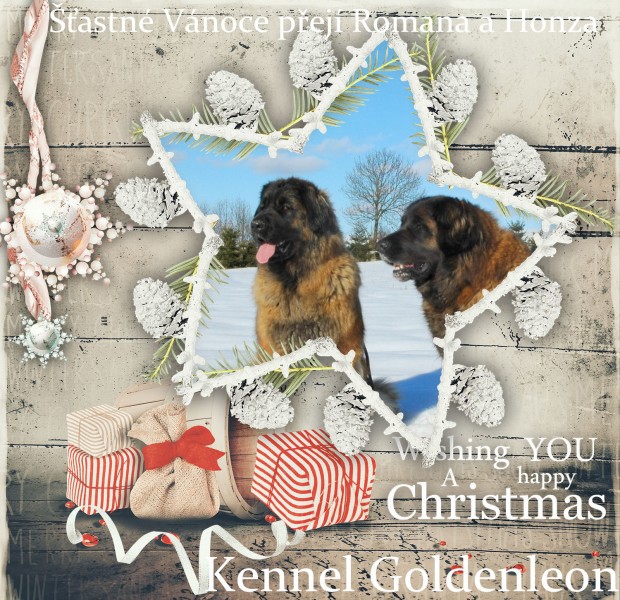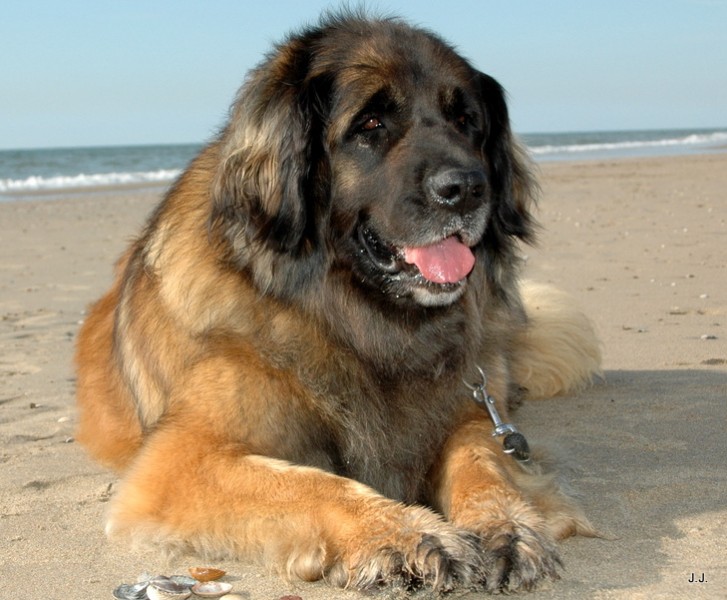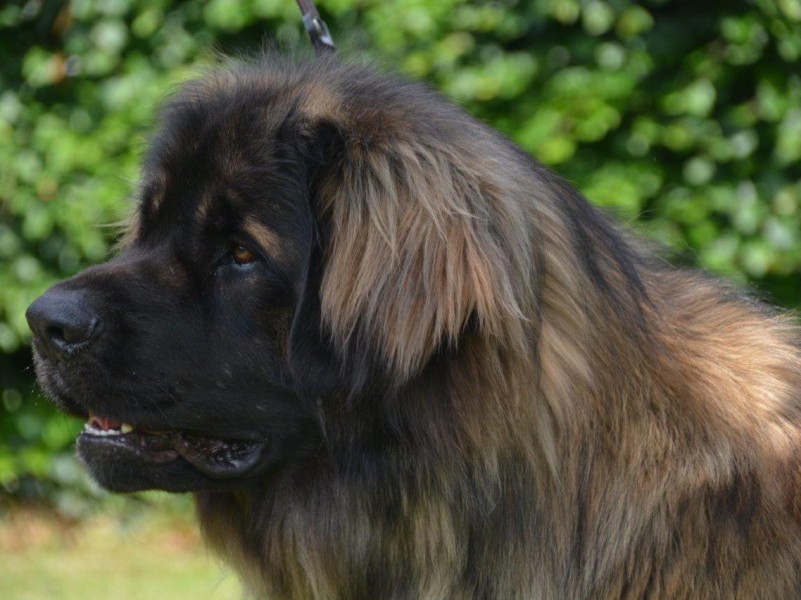 Celine Claudette Goldenleon Wictoriinan Sory of Lion King
HD A, ED 0/0, LPN 1 a 2 N/N HDA, ED 0/0, LPN1 N / N LPN2 N / N, LEMP N / N,
Eyes Free, DNA Available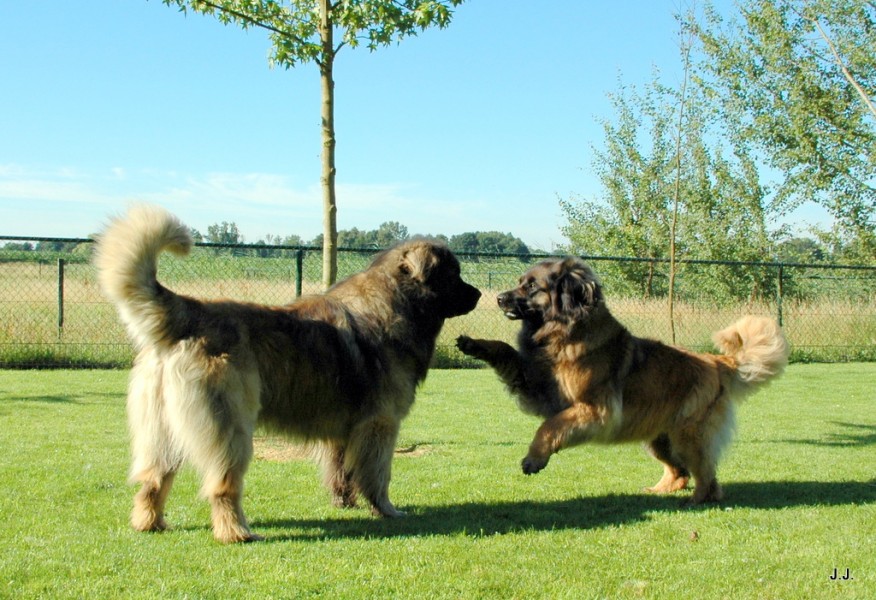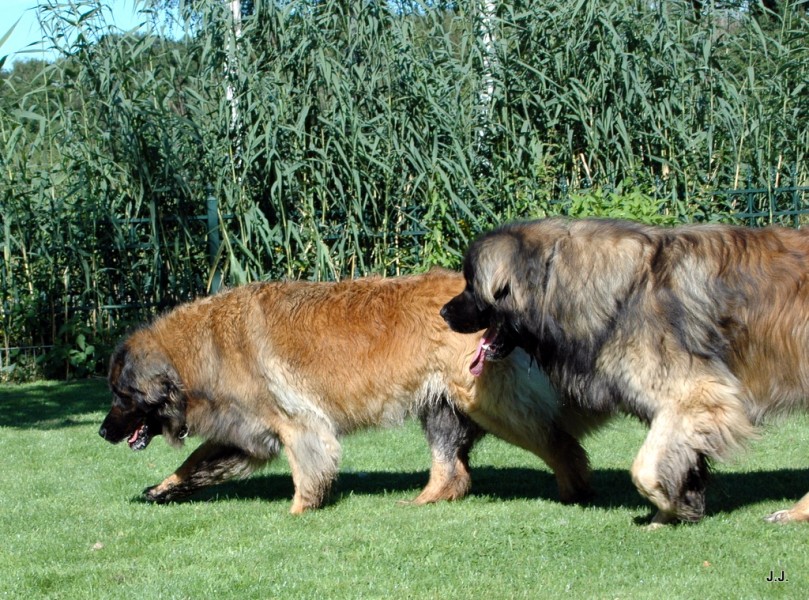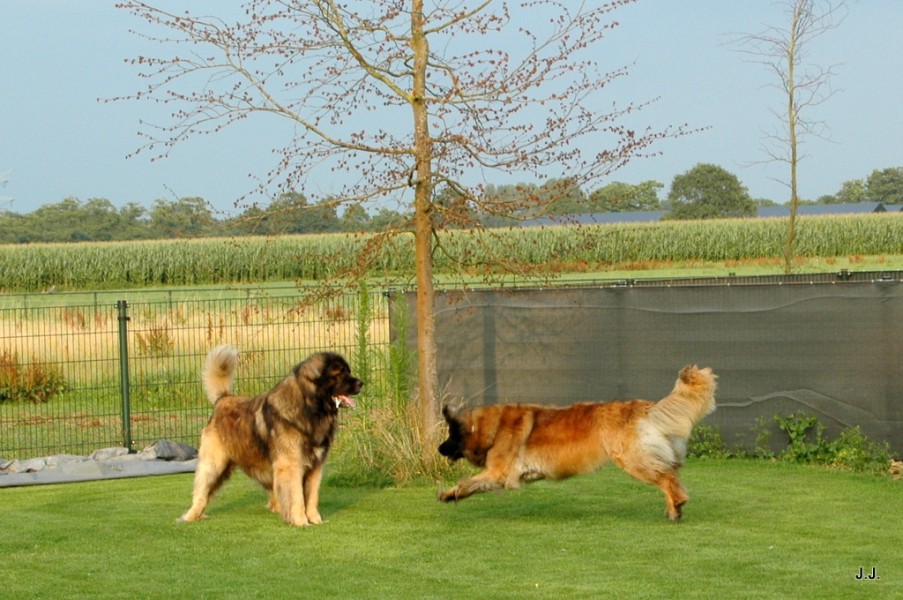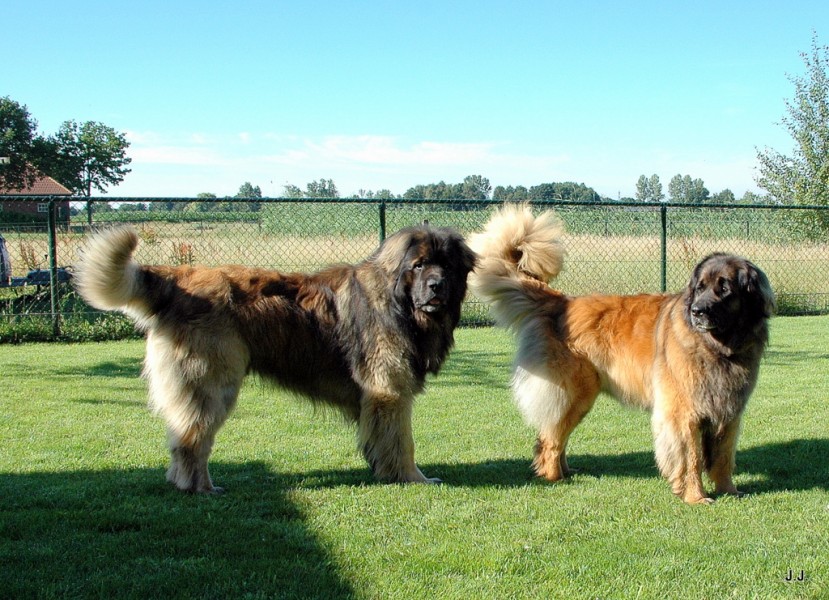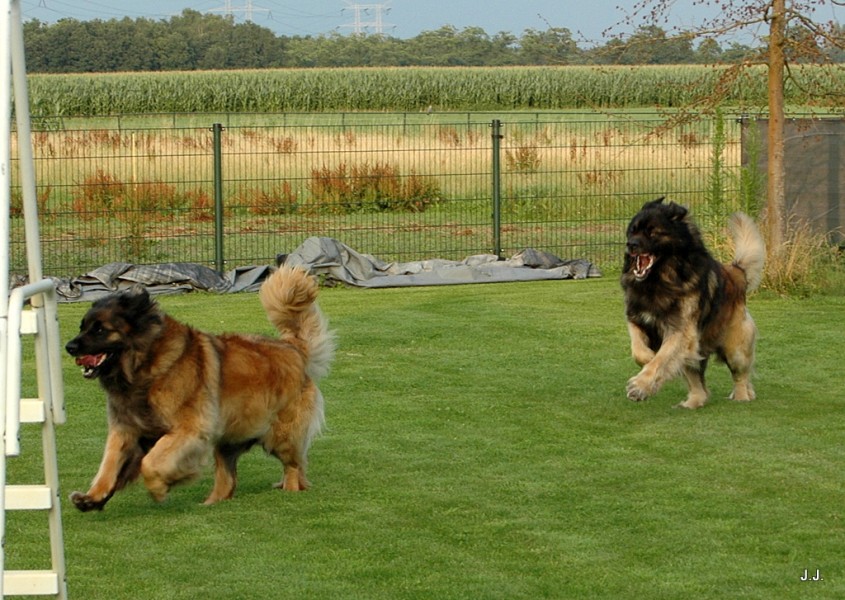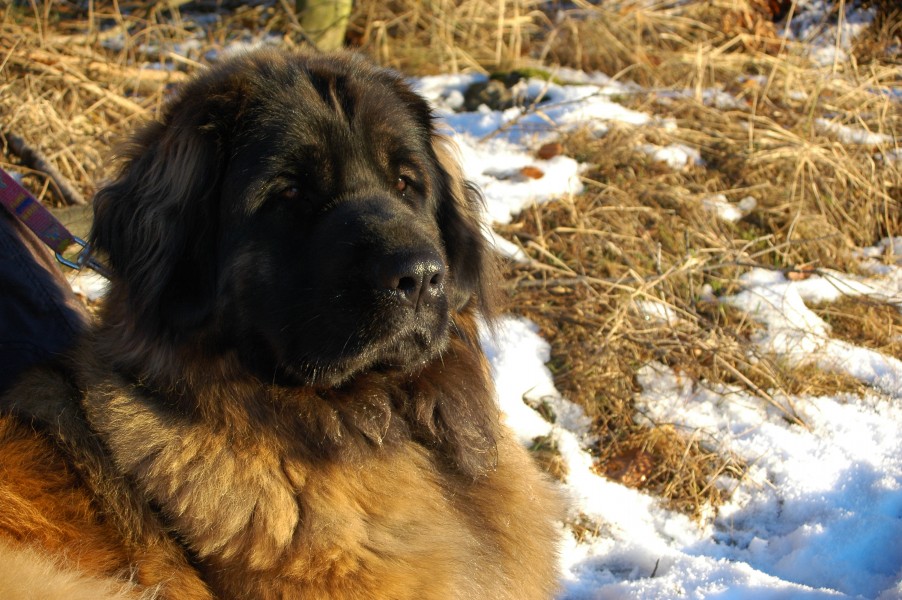 Our darlings January 1, 2017 to Choustník -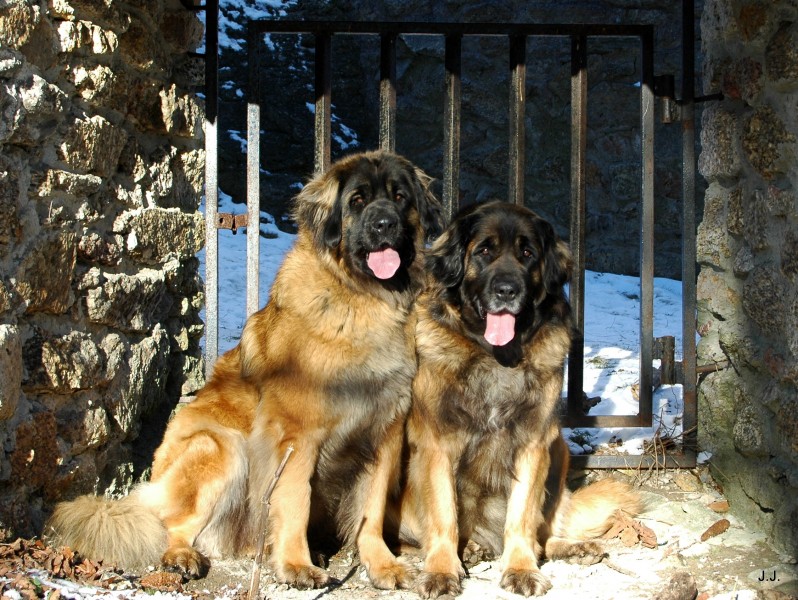 X-ray examination of the hip : Farel Goldenleon - DKK 0/0
Frenkie Ever Goldenleon - DKK 0/0
Folly Rose Goldenleon - DKK 0/0 ED 0/0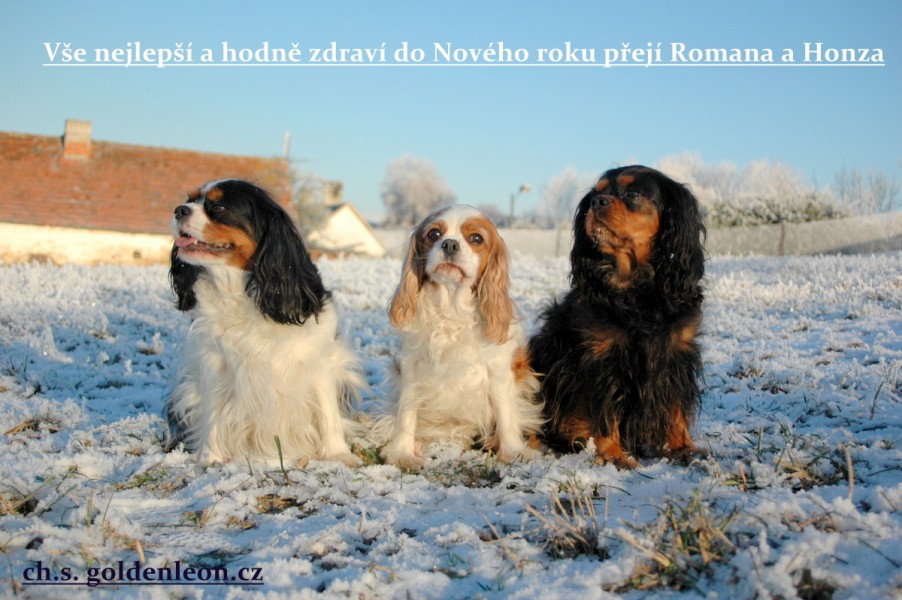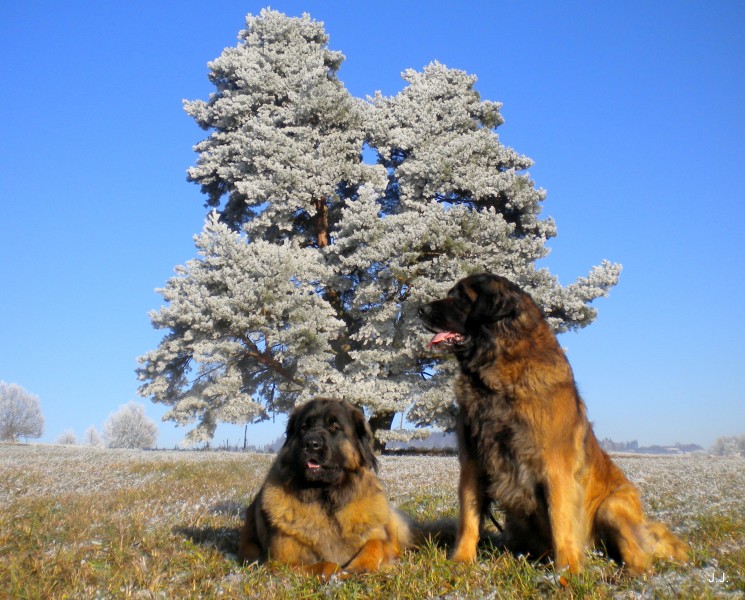 Folly Rose makes us happy at shows -Club shows SLK 11/09 intermediate class V1 CAC
- NDS Brno 25.9. intermediate class V1 CAC

- Club shows KCHL 1.10 intermediate class V1 CAC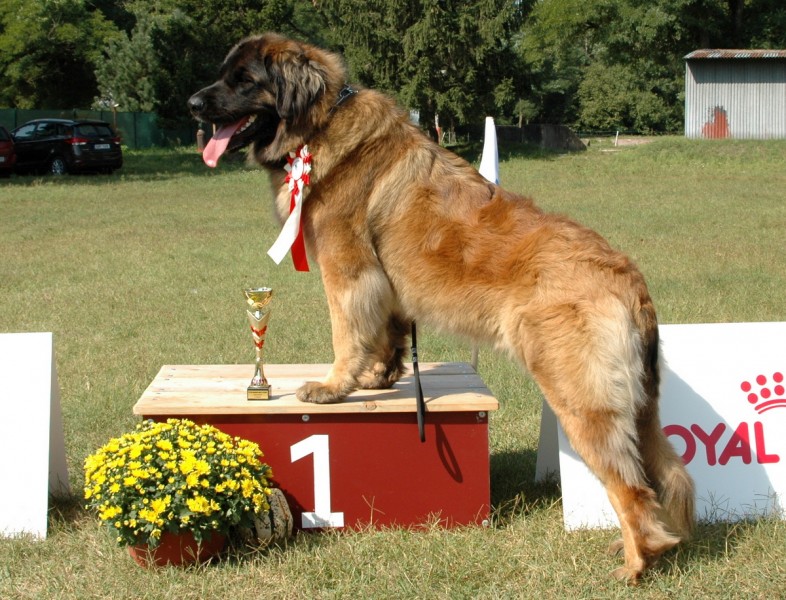 In Lednice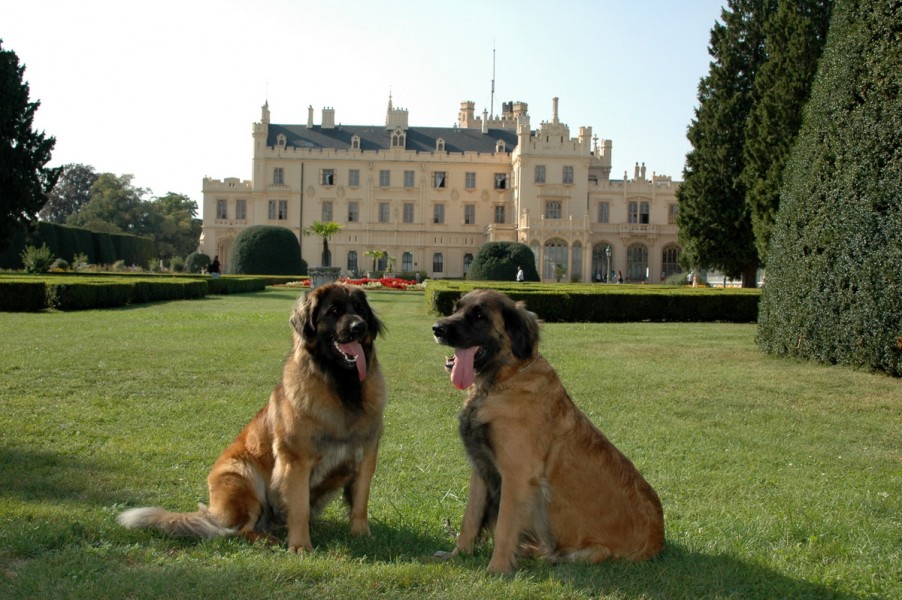 March 31, 2016 - We are pleased to inform you that your Claudy expect puppies with Fatboy member of Leogang. Ultrasound confirmed it.
Puppyplans in Kennel Golden Leon (CZ) ,
mated 5./6.3.2016 Fatboy Slim Member of the Leogang ,HD A1, ED0, Eyes ECVO free, Gonioscopie free, Thyroid/Spondylosis normal LPN1/2 NN x Celine Claudette Golden Leon, HD A, ED0, LPN1/2 NN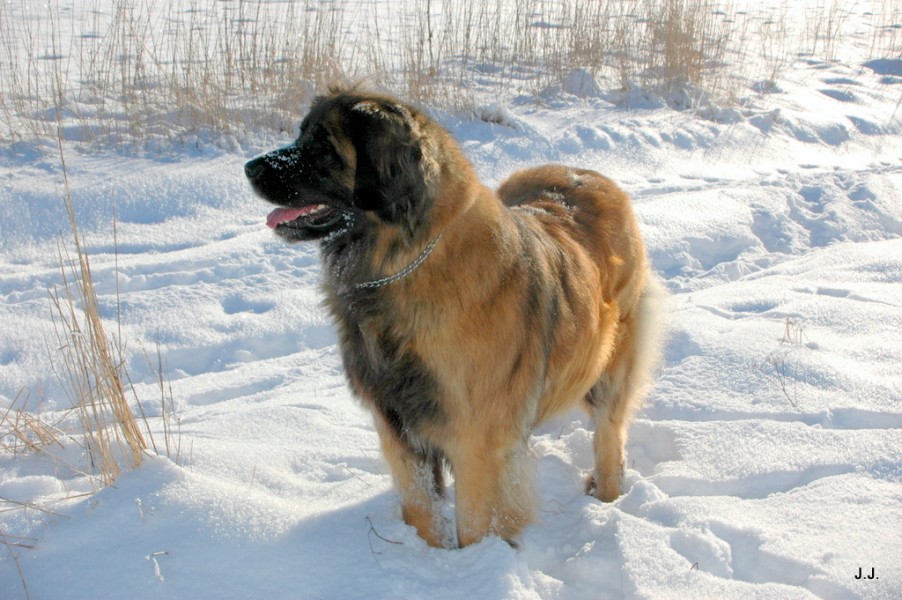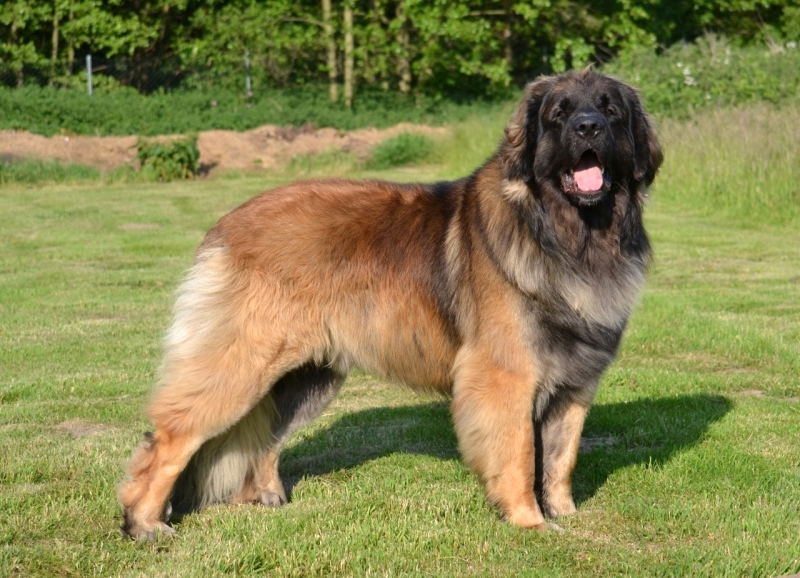 Happy Easter wish furry eggs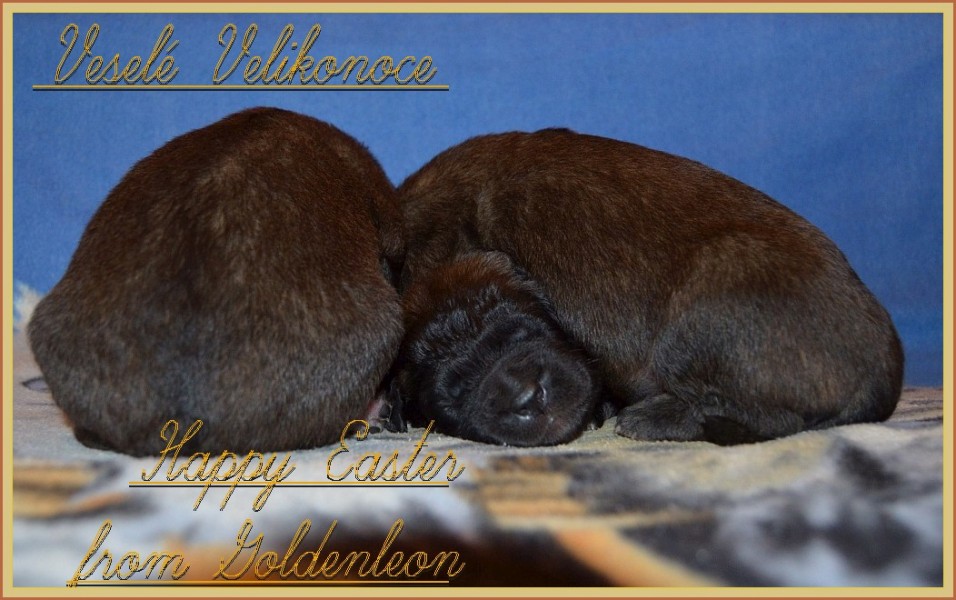 18.3.2015- Today, Alexis and Malte Mo was born ten puppies, three boys and seven girls. Birth weight from 508 grams to 582 grams.
Our puppies- If you are interested in any information or booking directly puppies , send us an e-mail- juza.jan@centrum.cz
February 15, 2015 - Today we are Alexis and Claude were on sonographic examination, which confirmed their pregnancy. We have very happy and now we are starting preparations for its comfort and puppy playing.
23.A January 24, 2015 Claudette visited the dog Vigos vom Kaniberg, their meeting was very friendly and coverage as well.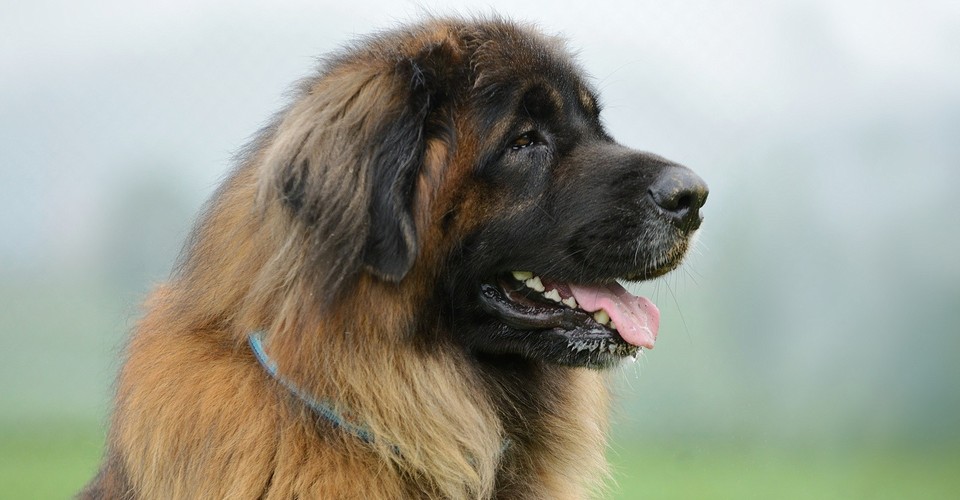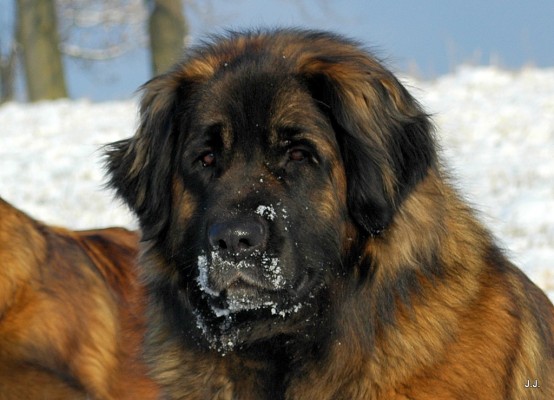 Vigos vom Kaniberg Celine Claudette Goldenleon
Web site Vigos vom Kaniberg HERE
13 and 14 January 2015 Alexis visited the dog Malte Mo and after a while kamarádění mated our Lexi. Perhaps we can look forward to puppies.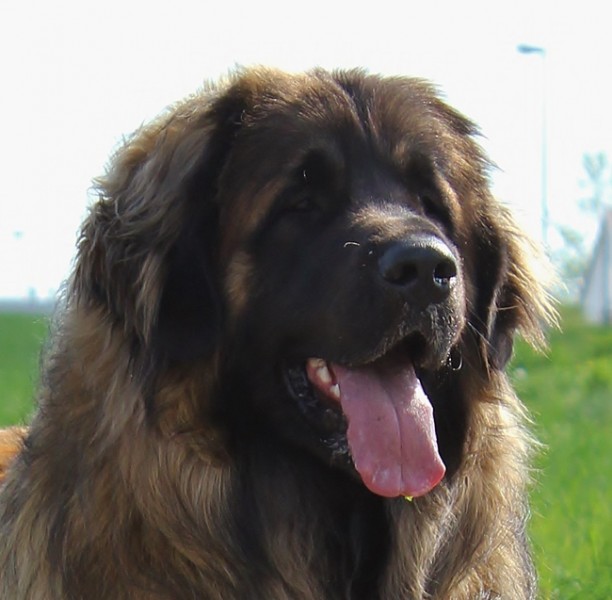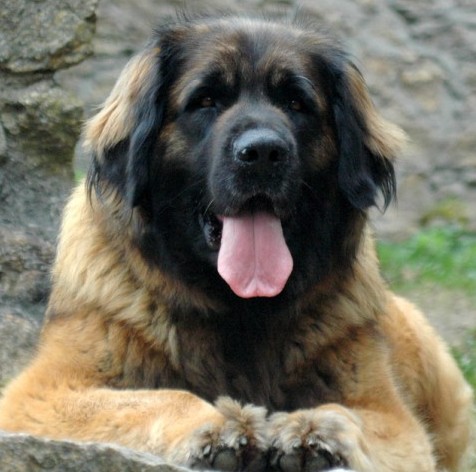 Malte Mo a Alexis Tyro Goldenleon
Malte Mo Löwe vom Bernburgerland - web HERE
We wish you a Happy first birthday puppies from the litter D.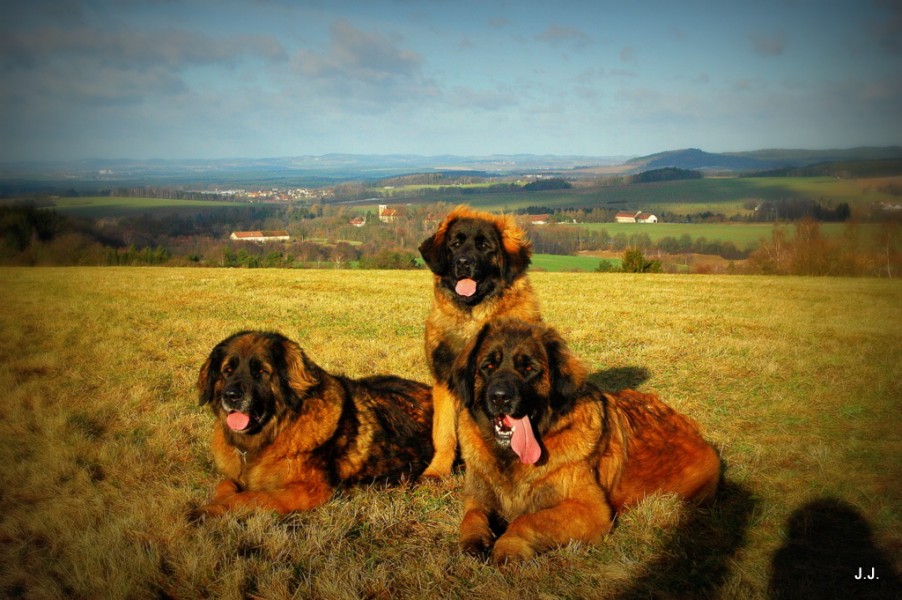 January 4th, 2015 Today we at the National Dog Show in Brno with Alexis won the title Czech Grand Champion, Alexis received in champion class CAC and Claudette in open class V2 Res. CAC, also congratulations Coudy Goldenleon the result V1 CAC in open class and gained the title Czech Champion.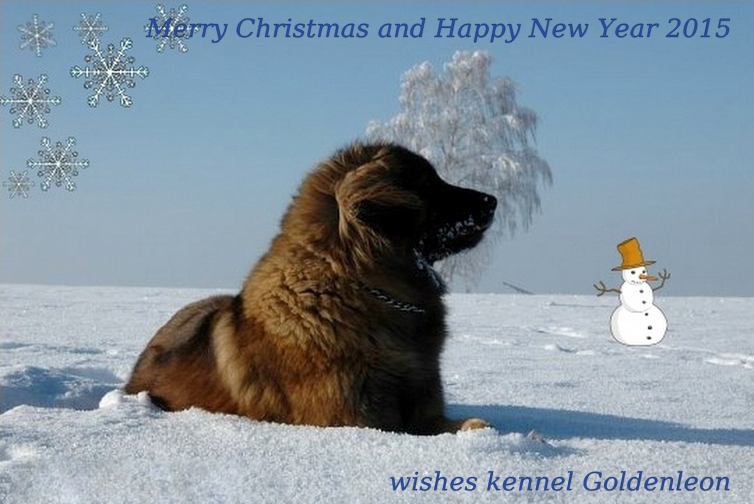 September 17, 2014 Added show successes Claudy - Here

September 14, 2014 was breeding KCHL, which was attended by three of our descendants Alexis GoldenLeon and Tyrone vom Welland _- Celine Claudette, Connie and dog Carpe Diem

Celine Claudette GoldenLeon - breeding female from September 14, 2014
BK- A3 U1, HD A / A, ED A / A, LPN1 N / N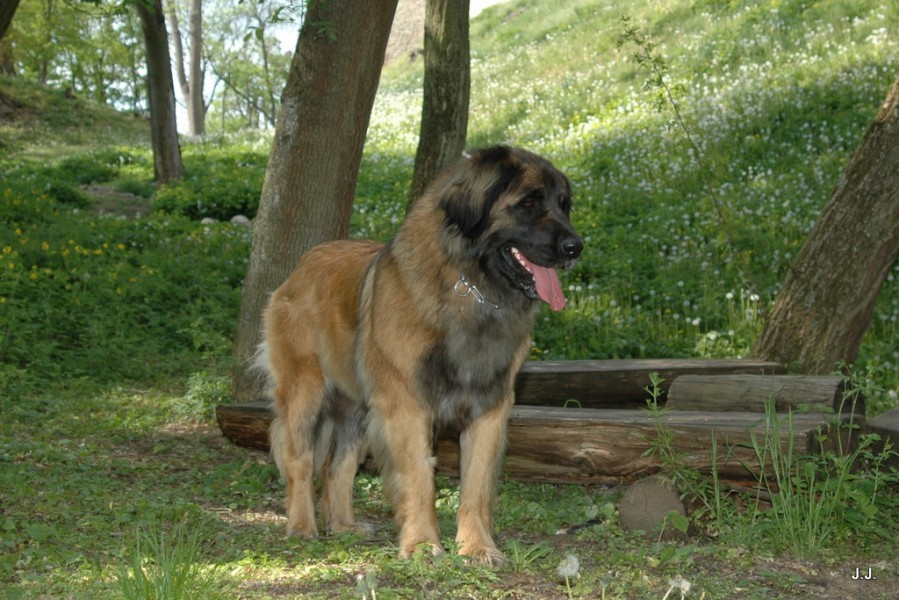 Carpe Diem GoldenLeon DKK A/A, LPN1 N/N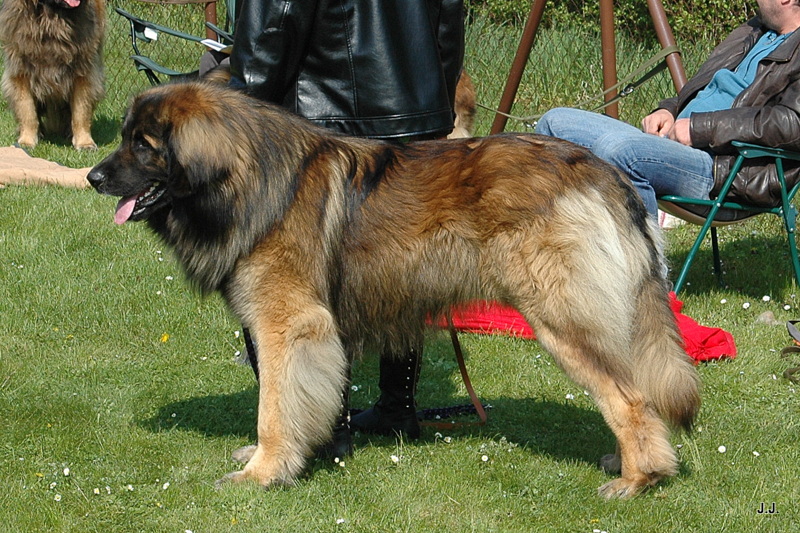 March 24, 2014 - This morning we were surprised by snow and Desmo enjoyed it better than the 20 degrees the past few days.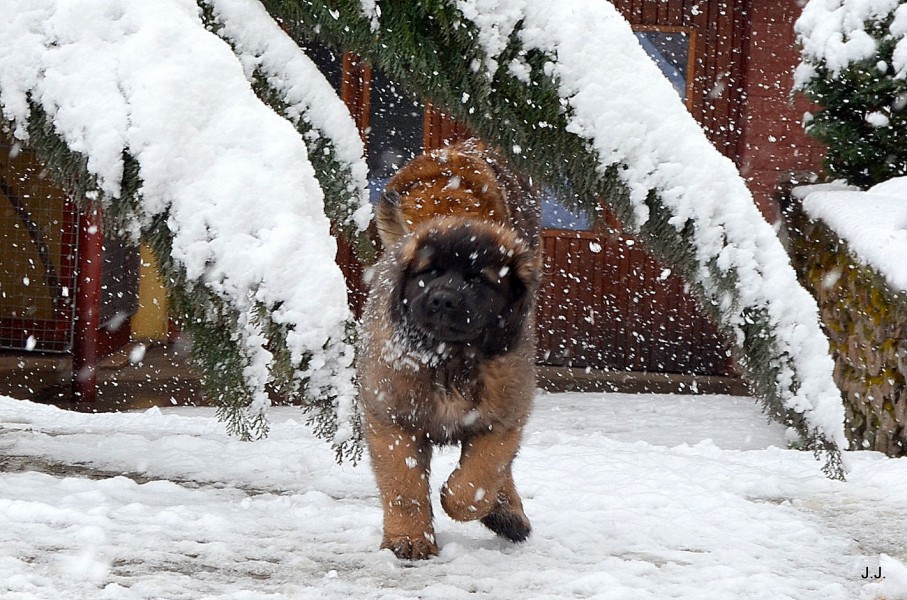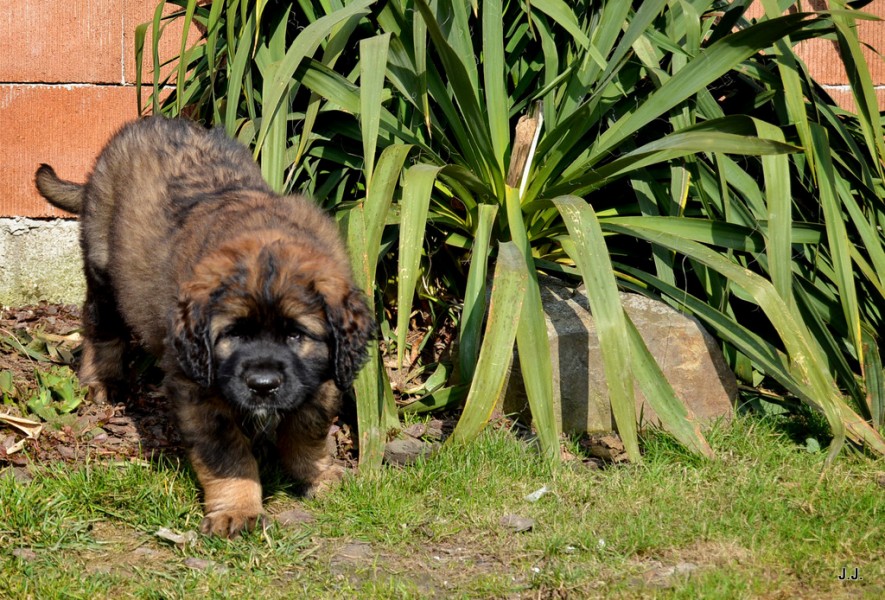 26th February 2014. Today the puppies are 6 weeks old and their weights are from 7 to 8.2 kg. Currently we have a very beautiful home Bear Collection. Two males still looking for new homes, light blue and dark blue ribbon. New photos HERE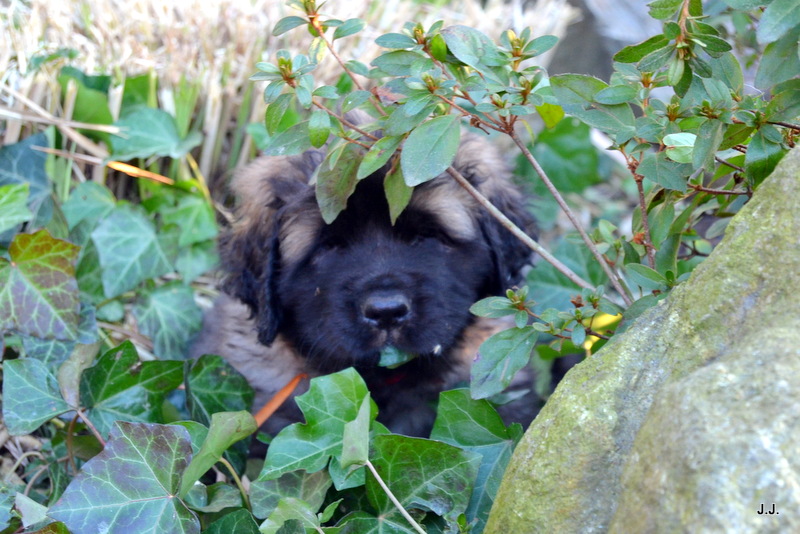 February 14, 2014 - The first walk in the garden, pictures of puppies are here

January 25, 2014 - Added picture galleries 2014 - HERE
New Photos of puppies are here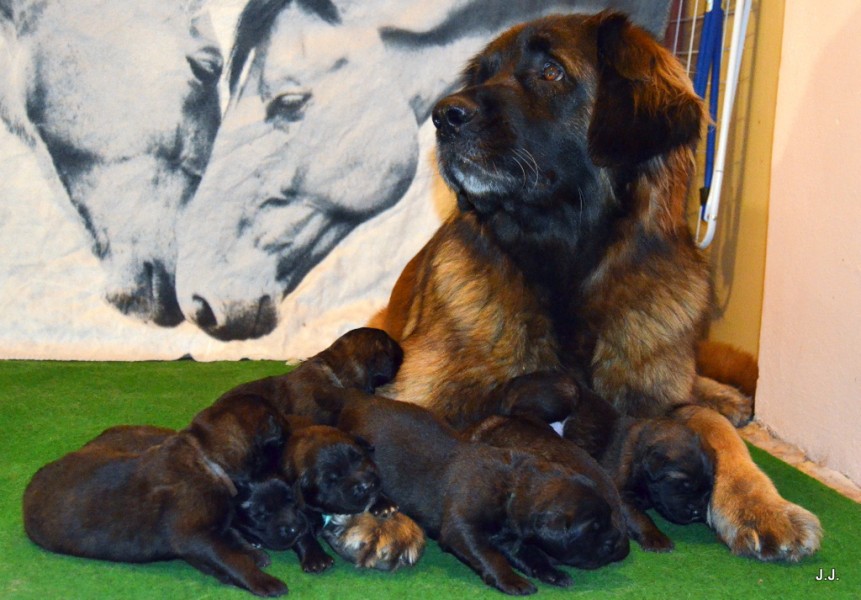 January 15, 2014 - Today , Alexis and Paquin were born twelve puppies , eight boys and four girls. They are all fine, Alexis managed childbirth without problems alone, with our little support. Now we have to go feed and I hope to soon add another report about puppies.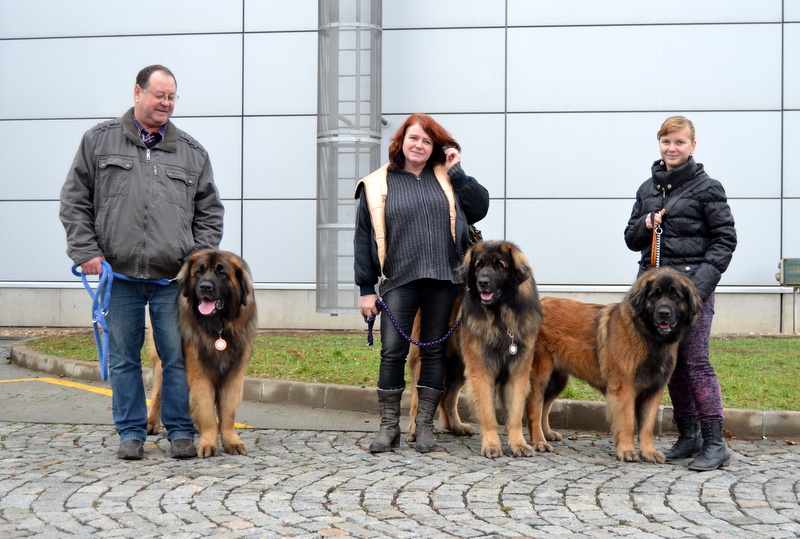 Our puppies from litter C, age 17 months, gathered at the National Dog Show in Brno and achieved great success in the ring: Winner BOJ - Coudy Goldenleon, National winner, BOB Carpe Diem Goldenleon, National winner Celine Claudette Goldenleon
December 14, 2013 - Today's ultrasound confirmed the pregnancy of our Alexis with a beautiful Paquin . Puppies we expect on Jan. 14 .2014. More information here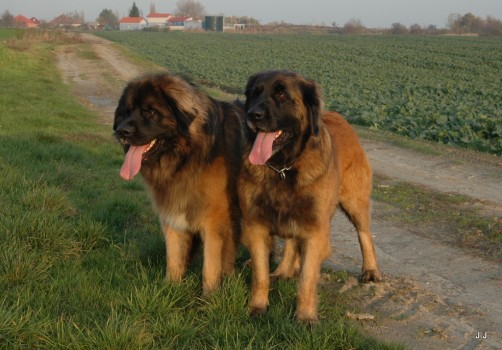 November 14, 2013 - The day we visited our Alexis Tyro beautiful dog named Paddy's Paquin vom Löwengarten. We are looking forward to puppies.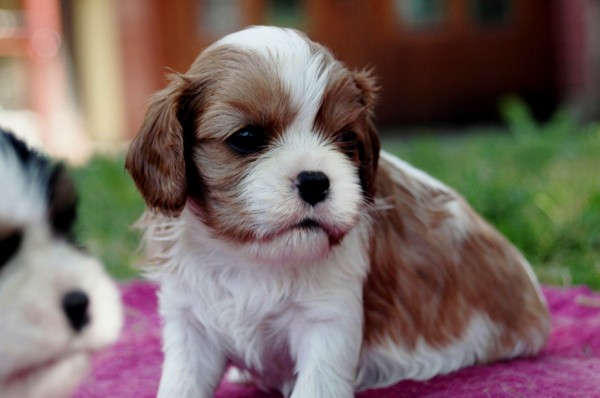 02/07/2013 I congratulate Leo C. puppies first birthday and I am very happy that all puppies are healthy and have great friends men and women. Whatever you do, just joy and mischief in his junior level.
June 16, 2013, our cavalier Anne gave birth to six puppies. 2 TR girl + 2x TR boy + 2x BH girl. Anny is very handy, the birth went smoothly, started in 19,30 and 23, 15 was born last male. Everybody's fine, birth weight 200-220 g. More information here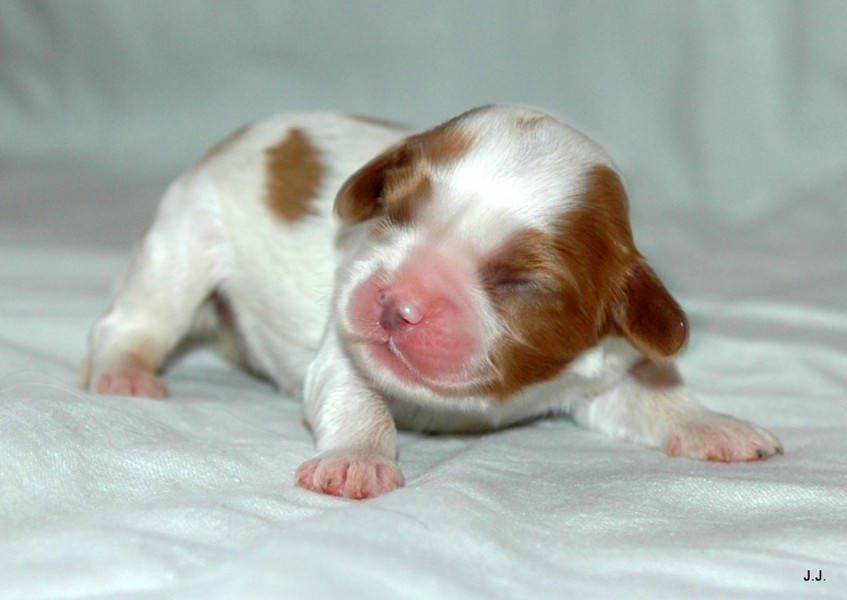 Parents and Anna Maxwell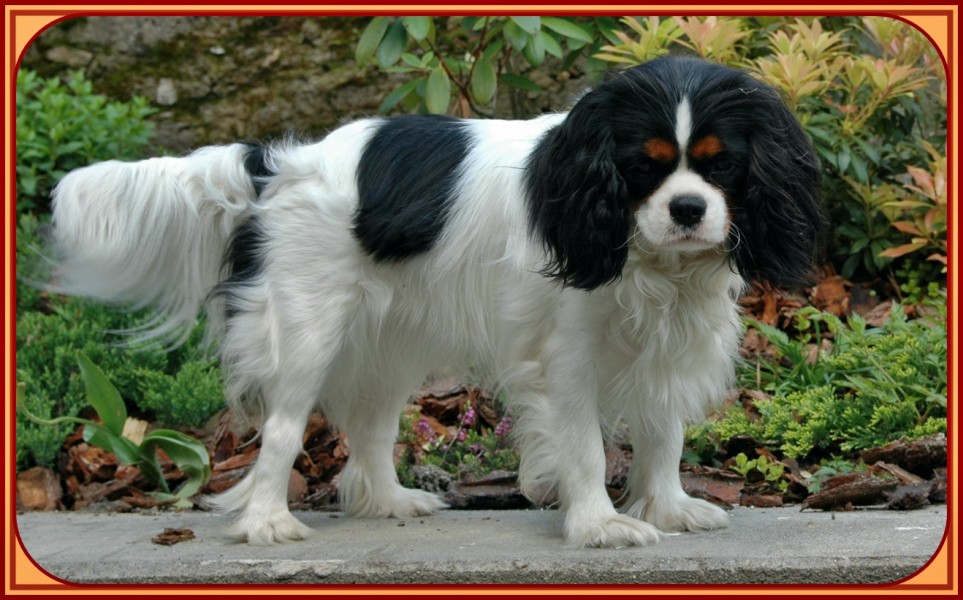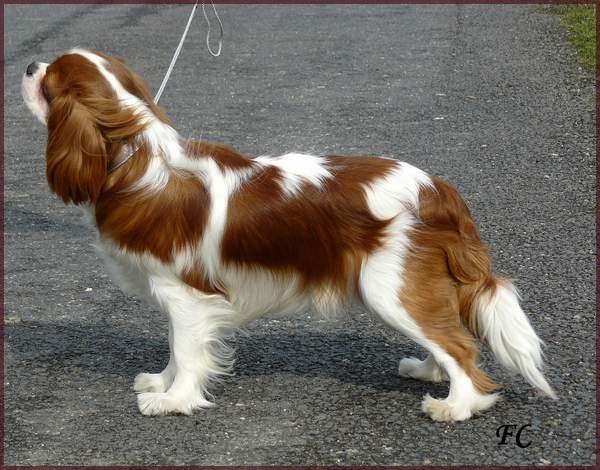 5.20 20123 - thank Melanie Pitz from the Netherlands for drawing beautiful Leonbergers for our Niky, this picture drawn by photos, leon does not last as long as the fit model. Her work can be found on www.melaniepitz.com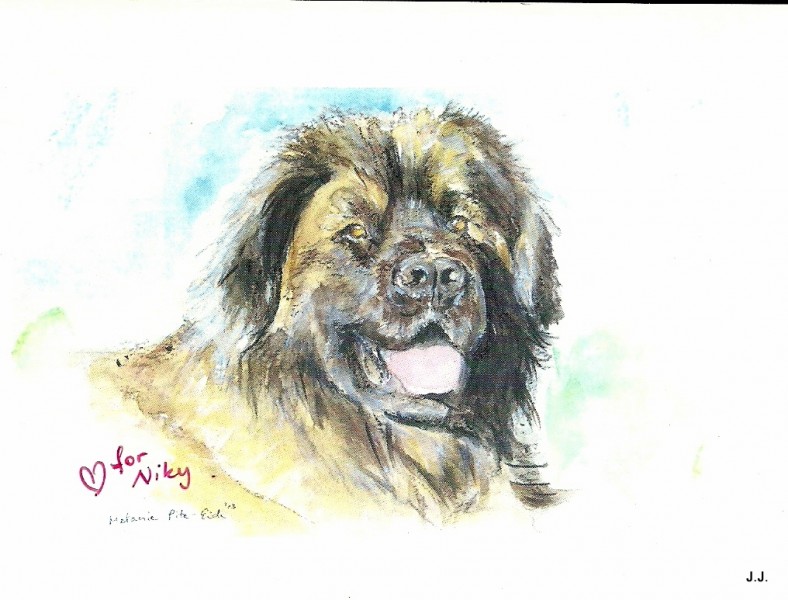 5.15 2013 - We are pleased to announce that our Kavalier Anna is pregnant, which we saw today on sono examination.

11/05/2013 - Claudette attended gathering of young, critique can be found on her site.
Club show KCHL April 20, 2013 in Mlada Boleslav

is compared to the weather, our club and much success. Alexis started first in the class winners and won with stamp V1 CAC. Another happy we did Claudy and her brother Carpe Diem, both won the puppy class Very promissing first . Agátka in numerous group of veterans - 11 females occupied 5 beautiful place.

More photos leon and cavalier- Here .......Here
April 15, 2013 we visited our the Anne dog cavalier CH. Maxwell and hope that their union will bring puppies.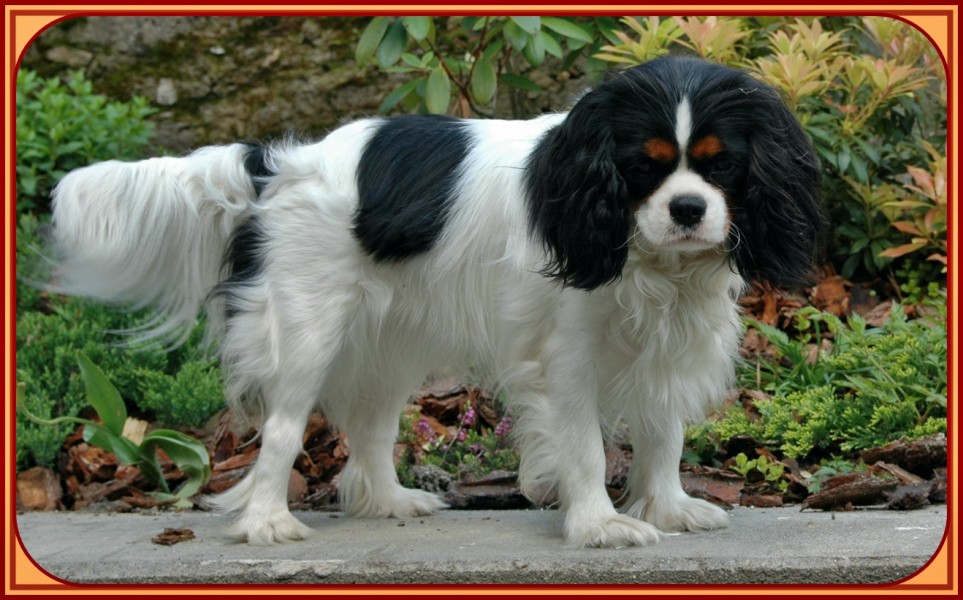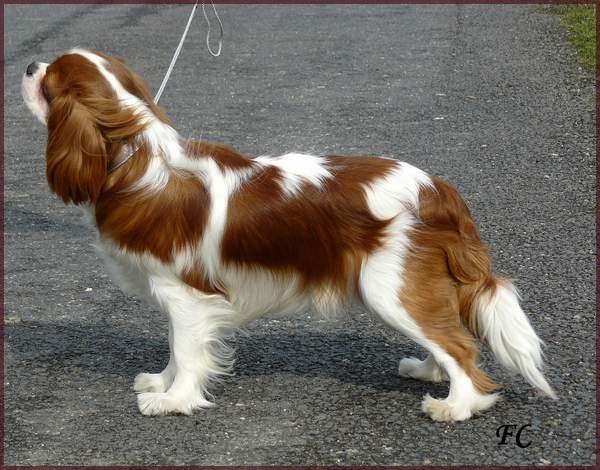 April 4, 2013 - the day he was awarded the title CZECH CHAMPION our leonberger Alexis Tyro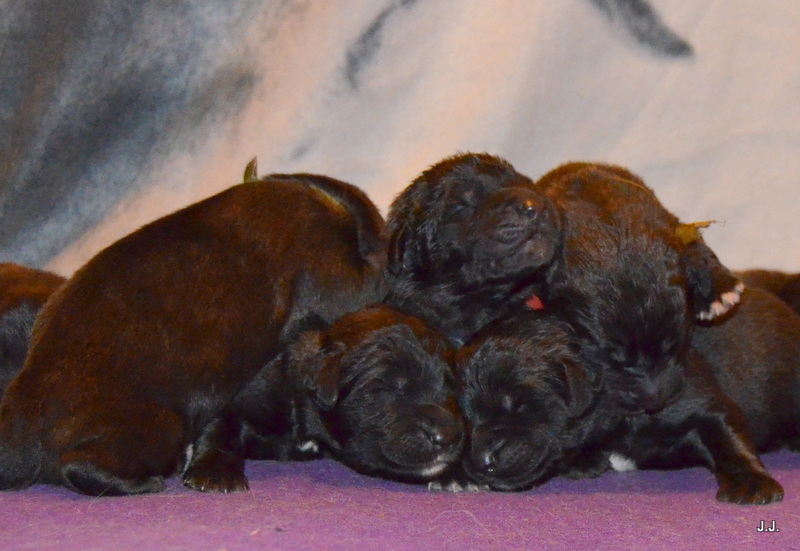 April 1, 2013 - Yesterday we CAC Budejovice with Claudette got got Very promising 1 in puppy class, and even more pleased we did Alexis, in open class has received award-V1, CAC, ČMKU CAC, CACIB, BOB - Best of Breed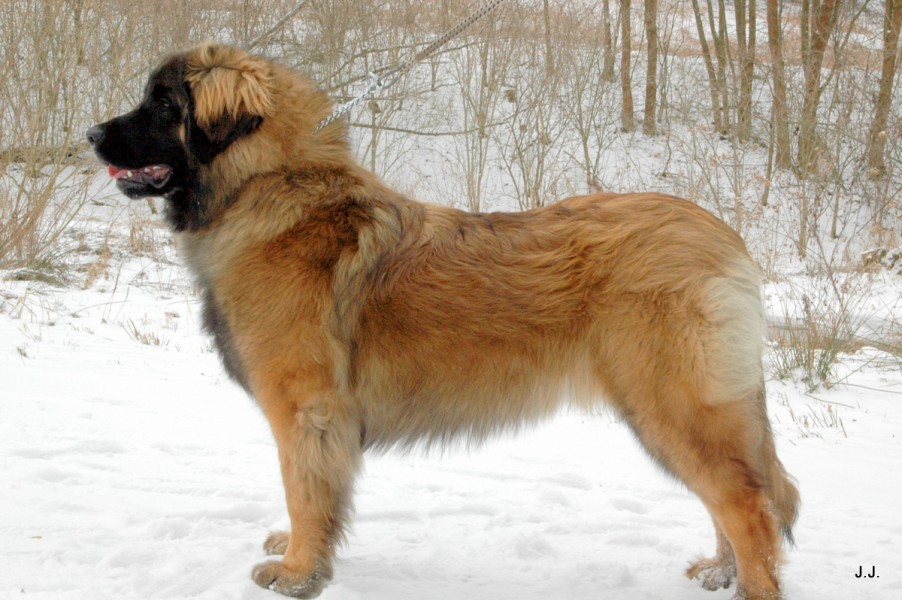 Celine Claudette Goldenleon - 8 month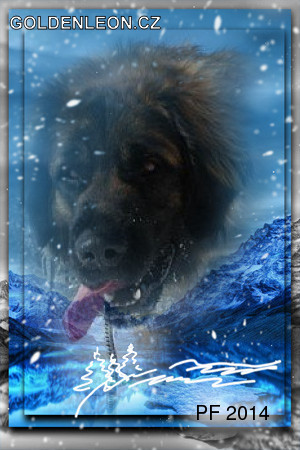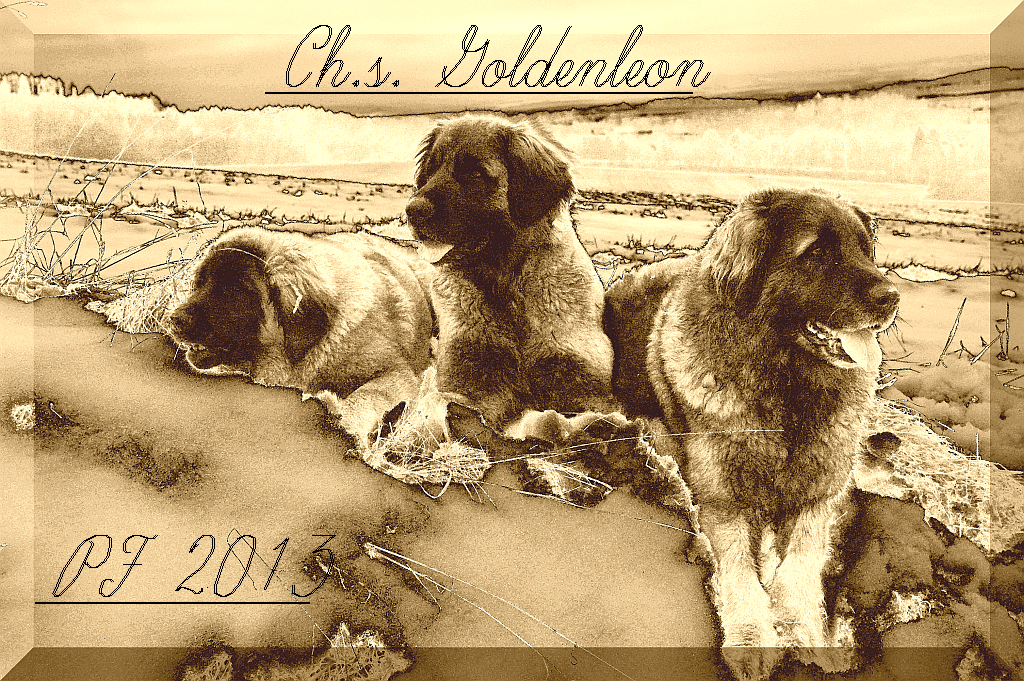 October 16, 2012 Plugged - page - Celine Claudette Goldenleon - HERE

October 8, 2012 -All puppies have new families , thank them in advance for their exemplary care and we welcome each message and photo.
September 6, 2012 - All puppies weighs 5 kg . New photos here.
For any breeders we loose females.
August 26, 2012 - Lots of new photos of puppies is here
08/09/2012 - Puppies Week 1 and we add to the gallery some photos here
3/07/2012. I am pleased to announce that our dog Tyrone and Alexis have eight puppies
(5 males and 3 female). Birth weight baby is 550 g to 640 g
5.7.2012 - On Monday we went to our Alexis to sono, who confirmed to us that we can look forward to the puppies.
17.06.2012 - Yesterday we Agatka and Alexis were on special exhibition KCHL
in a pleasant environment Kunratický park. Alexis received in open class
Excellent 1 Res.CAC, Agatka winner class Excellent 4th. Both made ​​us happy.
5.6.2012- This weekend we visited with Alexis dog named Tyrone v. Welland and the mating was successful. More here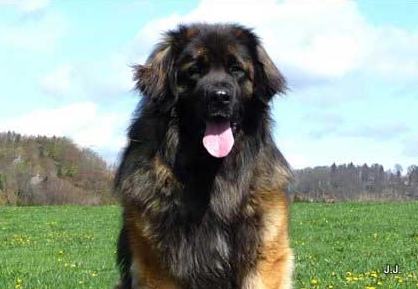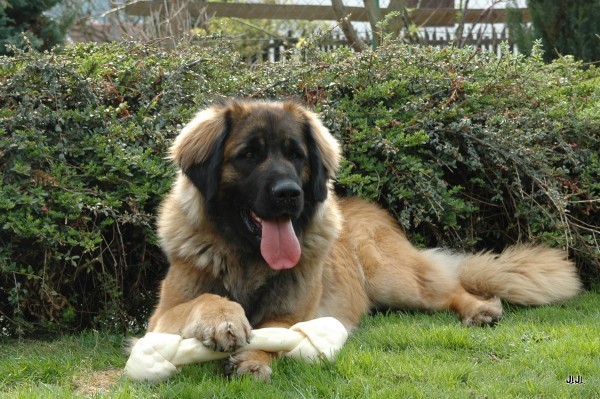 04.19.2012 - puppies - male and female Ruby color from litter D
- Male BH, BH and TR female from litter E
If you are interested in info about us or call us at tel 777 654 443 , email - goldenleon@wbs.cz
- Added new photos of puppies as the Rock Garden - HERE
8.4/2012 - Puppies D is already 6 weeks and closer to the time when they start to prepare
to go to new homes. If you are interested in a puppy , write to goldenleon@wbs.cz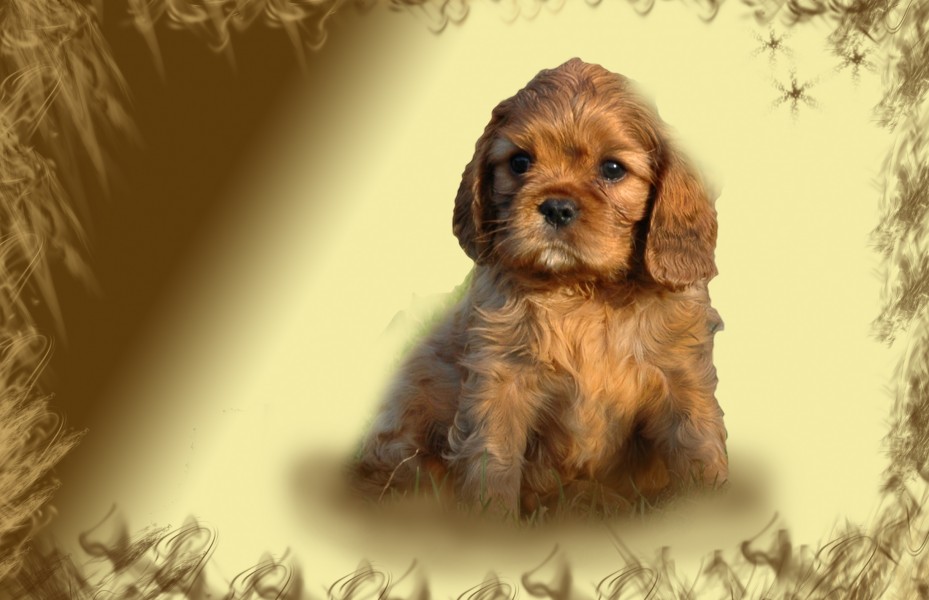 3.4.2012 - O víkendu nám Alexis udělala dvojnásobnou radost. V sobotu byla
zbonitována v Loučni a uznána chovnou s b.k: A2F1U1. V neděli na MVP
v Č. Budějovicích
vyhrála ve třídě otevřené a obdržela známku V1 CAC,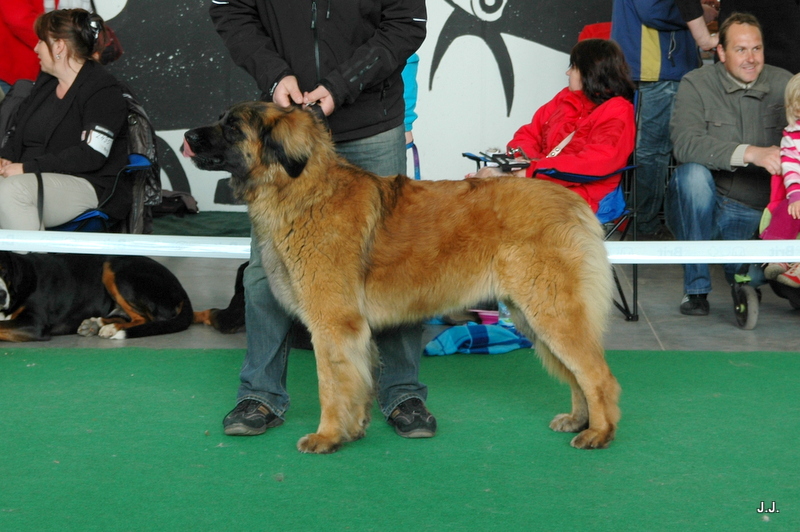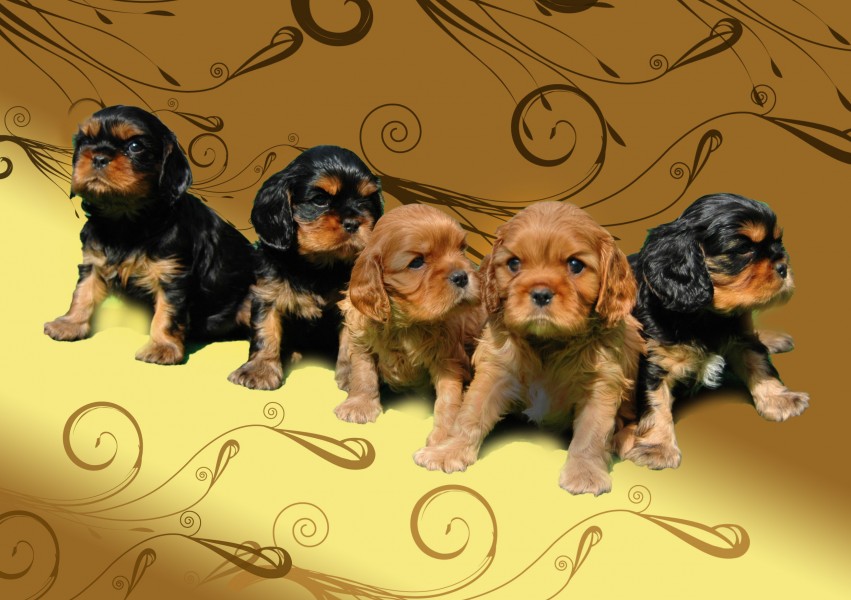 Puppies - March 15, 2012 ,null, E "is now the first week and the photos HERE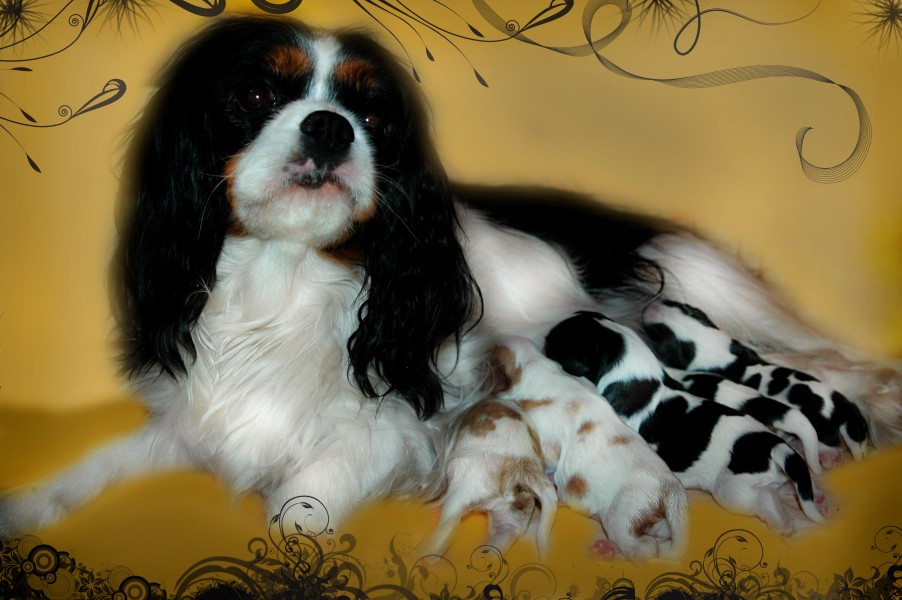 13.3.2012-Puppies litter (D) - tomorrow will be three weeks and here you will find some new pictures.
03/08/2012 - Today, Anne gave birth to 5 puppies . 2TR 1BH and female and male 1TR and 1BH . Soon we will add photos. -- More
On February 22, 2012 were born 5 puppies ( 1RU and female 1BT , and 2BT 1RU males ) from the connection with our Every, dog Arny .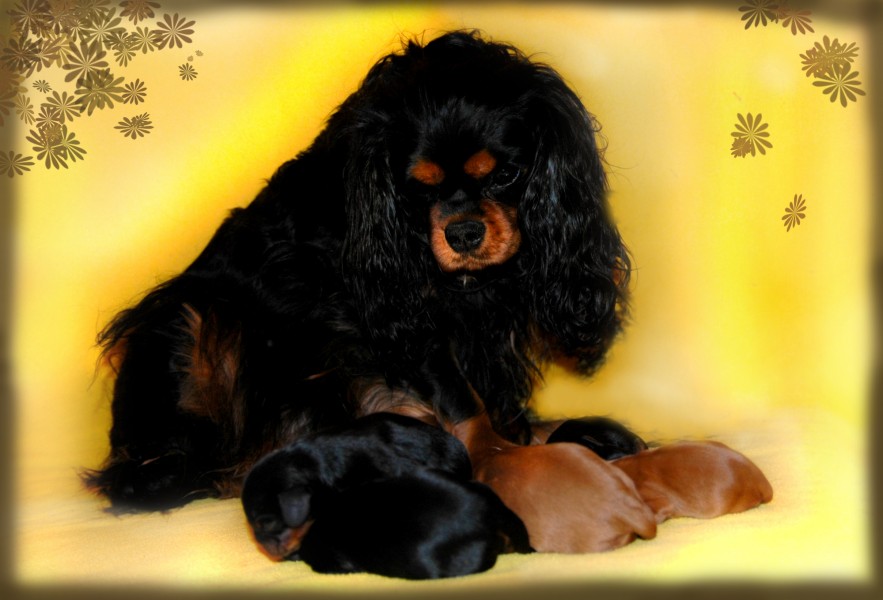 27.01.2012 - Today we received the results of the gene . tests for polyneuropathy in Leonbergers LPN1 .
Our Alexis has a negative result - LPN1 N / N ( free) .
10.1.2012-this Sunday, we're with Alexis visited the National exhibition in Brno, where in the open class received mark V1 CAC. Did us great joy
Puppies Cavalier King Charles spaniel...
December 23, 2011 - We expect cavaliers puppies!
Every Thing Nice Flowers City Arny z Andulčiny školky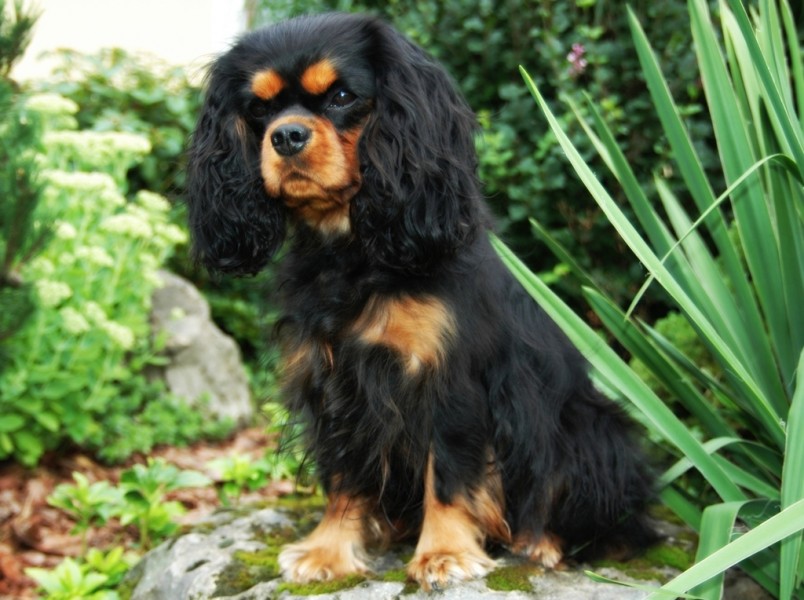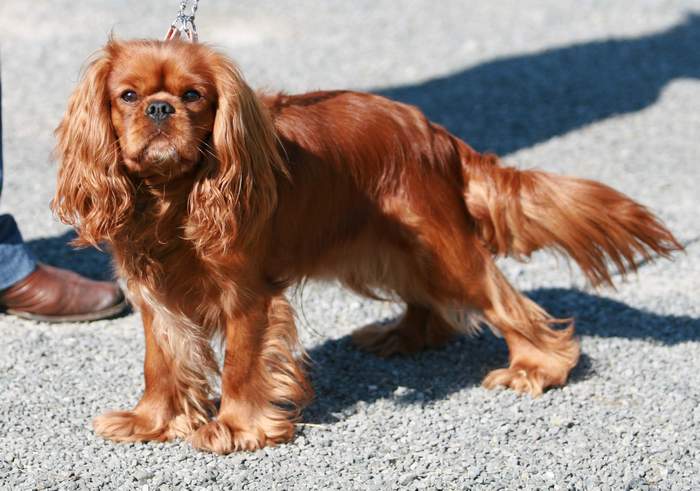 Mother Breed code : 111 111 121 1E Father- Arny show results, Breeding code and tests:

JUNIOR CHAMPION CZ, Champio CR, Grand Champion CR

Top. Dog puppy 2009 CAJC 5x, 6x CAC, 2x r.CAC,

Top Young Dog, BOB..... Breed code : 111 511 132 1F

MVD neg. 2011 , Patella - negative
10.1.2012- this Sunday, we're with Alexis visited the National exhibition in Brno,where in the openclass received mark V1 CAC. Did us great joy
1st 7.2011-Today is five weeks and puppies as we never did get the sun, are the photos a bit grayish.
photos HERE
July 23, 2011 - Puppy pictures with names - here
July 18, 2011-Pups are three weeks and enjoyed their first trip to the green grass - HERE
10th July 2011 - New photos of puppies here.
27th June 2011 - Agatka has puppies!
2th May 2011 - We expect puppies Leonberger - HERE
6th February 2011 - New photos Clere, the last litter of puppies from our C Cavalier Anny - HERE
Besides girls, Clare, have all the puppies a new home, traveled the furthest dog Caudy. In its new home flew 6000 km.
January 25, 2011 - Lots of photos of puppies, if interested in information or
reservations, write to email: juza.jan @centrum.cz
January 21, 2011 - New photos Agatka Lexi and Kety in the January thaw

- HERE



January 20, 2011 - Tomorrow the puppies one month and see the new gallery photos - HERE
12th 1. 2011 - New gallery puppies - Hier
6th 1. 2011 - New photos puppies. (hier)
December 28, 2010 - Puppies are already a week and you have new photos - here
December 21, 2010 - Today was born cavaliers puppies!
2
0th 11.2010 - Updated page puppies, more here.
19th 11. 2010 - Puppies Agatka, "Argus, Alexis, Aaron, and Antonio, is now one year and to wish them all
15th 11.2010-
New photos from our trip to the ruins Choustník - here
19th Juni 2010 -
Small puppies is already 21 days, their eyes and awkwardly opening are
20th 4. 2010 - Photos of Lexi and Agatka club shows can be found - here

18th 4. 2010 - Agatka and Lexi were now on the Club Show M. Boleslav. Lexi is placed
in a large competition in a beautiful second place and Agatka
ranks third.

9th 4. 2010 - New photos of puppies and Argus Antonie see: Well, we grow
- Added new photos to our gallery females - here

2nd 4. 2010 - a Merry Easter wish Jůzovi.

1st 4. 2010 - Today, we bred our beautiful Everything Nice dog Maxwell from Villani.
more info

14.3.2010 - Waiting for Spring Creek - 2010 photo gallery

13.3.2010 - New photos of Argus

7th 3.2010 - Our Cavalier Anny participated in breeding Středokluky- and
recognized breeding

27.2.2010 - Photo Gallery extended to 2010, here. Lexi is growing as the water and gives
it a Agáta all members of the pack pretty light.

31.1.2010 - New photos of puppies here, and Lexi Agatka here.

23.1.2010 - Today, on her way to her new home in Austria, our Antonia. We wish all
our puppies to the new homes should be well done and
its owners only joy.

19.1.2010 - Photos of puppies as they grow and their new friends .

14.1.2010 - Alexis called Lexi has had its web sub-page and you'll find it here

9.1. 2010 - Today, two guys left so we stayed home again nothing but girls.

8.1. 2010 - The puppies will soon leave for their new homes, the last photos
See the gallery.
31.12.2009-The gallery for new photos of puppies added.
20.12.2009.- Leon puppies is already a month and give it a tireless playing the show, do not know that Christmas is coming
4.12.2009 - Small pupies is already 14 days, their eyes slowly and awkwardly opening are
built on legs. The former enjoyed photographing outside his box
photos here.
27.11.2009 - Puppies is already a week and see actual pictures gallery - photos of puppies -
20.11.2009 - 19.11. Agatka give birth four beautiful pupppies ( 2 female and 2 male ).
23.10.2009- Agatka are do to next sono investigation, who her gestation confirm
12.10.2009 - Sono confirm Agatka gestation with Tyron (Much here)
26. and 27.9 - Our cavaliers take part in club exhibition in Průhonice and Kutná Hora.
19.9.2009 - Agatka + Tyron = puppies (Much here)
13.9.2009 - Club exhibition KCHL, Svojanov- Agatka prevail in classroom winner and do to
us great joy. (photo here)
12.9.2009 - Way into Svojanov, are stop on club. exhibition MSKChPL
20.7.2009 - With Agátkou are také part in training camp in Osoblaha, particulars on
www.leonsilesia.net

21.6.2009 - To photo gallery add new photo.
7.6.2009 - Everything successfully valuated and recognize breeding ( more here )
30. and 31.5.2009 - Club and special exhibition KaKCHŠ Prague -all our cavaliers successfully
process despite of rainy weather. Result find (here
11.5.2009 - Unfortunately sono confirm gestation our Agata and so on her descendant budem
wait next
1.5.2009 - Be come at two-day exhibition to beautiful nature in Moravia. Agatka both two day
secure 2. room with prefix Res.CAC in classroom winner. Ago Agatka was Celesta.
(photo here)
25.4.2009 - To photo gallery add new photo ( here ).
19.4.2009 - Be take part in club exhibition at ranch El Paso in Svojetice, where our Agatka get
beautiful 3. room in classroom winner.